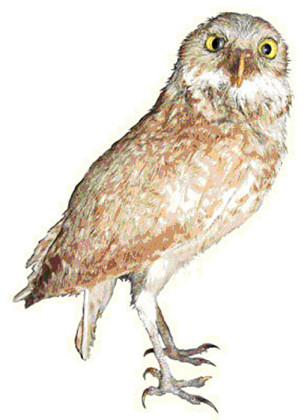 Owls have traditionally been associated with wisdom. The Burrowing Owl shown here is widespread in the Chihuahuan Desert.
Learning often is divided into formal and informal education, and museums are involved in both. Formal education is associated with school classes, while informal education takes place outside of school and serves people of all ages. Museum involvement in formal education includes providing teachers with hard-to-obtain resources, provision of lesson plans, and the presentation of teacher workshops. Exhibits, web presentations, lectures, authoritative information, and kits that may be used at home are among the ways in which museums engage in informal education. Materials cross readily between the two categories, and you may want to investigate both.
Chihuahuan Desert Teaching Module. An introduction to the Chihuahuan Desert for the younger set. This will work for both informal and formal education.
Web-based Course: Natural History of the Chihuahuan Desert. This introduction to the natural history of the Chihuahuan Desert was originally offered as a 4-week summer course at the University of Texas at El Paso. The web-based version is presented as an extensive, introductory course for the adult self-learner, or it may be used in the classroom as the basis for a formal class.
Web-based Course: Mammalogy on the Web. A reference source and informal on-line course on mammals, or it may be used as the basis for a formal class. Concentration is on the Greater Chihuahuan Desert Region, though major mammalian groups are introduced on a world-wide basis.
Desert Diaries. The web version of the daily radio program presented by the Centennial Museum and KTEP, National Public Radio for the Southwest. Subject matter includes both the natural and cultural aspects of the Chihuahuan Desert. Additional materials (photographs, references, educational material, mp3 recordings of the programs) are added to many accounts. A limited number also are available in Spanish—and more are coming!
Early Southwestern Photographs. Glass-plate photographs of the early years in the Southwest.
Wynn Anderson's Recommended Southwestern Native Plants for the El Paso/Las Cruces Area is finally available in PDF format.
Instructions to make your own Mimbres Pottery Turtle ornament. Put it on the Christmas tree, make a mobile, or just hang it anywhere.
Checklists of butterflies and vertebrates of the Greater El Paso Region are available.
Publications. The Museum has a short series of publications on anthropology and natural history. The Museum also has a series available by PDF that includes informal, electronic documents of the Centennial Museum: Ethnobotanical Information, Chihuahuan Desert Gardens; An Annotated Checklist of Fishes of the Rio Grande Drainage, Doña Ana, El Paso and Hudspeth Counties; Mammals of the Greater El Paso Region; Checklist of Amphibians and Reptiles of the El Paso-Juárez Border Region; Checklist of the Mammals of El Paso County; Plio-Pleistocene Vertebrate Fossils of the El Paso Area; El Paso Birds; and Recommended Southwestern Native Plants for the El Paso/Las Cruces Area.
From the University of Texas at Austin: Texas Beyond History. Includes a wealth of material concerning Firecracker Pueblo near El Paso and Ceremonial Cave in the Hueco Mountains.
Trans-Pecos Regional Museums: Off-site: links to museums in the Trans-Pecos region.
Informal Education
Chihuahuan Desert Education Coalition. Back and current issues of the Coalition's Newsletter (pdf format) can be accessed at their website.
El Paso Cactus and Rock Newsletter, March 2008.
El Paso Native Plant Society Newsletter.
Learning Links—for either informal or formal education. Although some aspects are aimed at children (e.g., many have associated coloring pages), the primary aim is to present one-page, authoritative information utilizable by both children and adults. Some also have educator lesson plans.
Other informal learning items (contact the Museum) include:
SunSCAPE: Learning about using native plants in your landscape. These classes are offered periodically. Keep an eye on "Current Happenings" for when the class is offered.
FloraFEST: An educational program on native plants and a native plant sale are held at the end of April every year.
Formal Education: