AN INTRODUCTION TO THE CHIHUAHUAN DESERT

The Chihuahuan Desert covers a vast area from just south of Albuquerque to the state of Zacatecas in Mexico. It includes quite a variety of habitats. Many of its inhabitants are unique and only found here. We will concentrate on the Chihuahuan Desert areas of West Texas and Southern New Mexico. After you learn a little about the early history of the area before the Chihuahuan Desert formed, you may choose to investigate how the past history of the area continues to be an influence on current day LIFE SCIENCES and EARTH SCIENCES.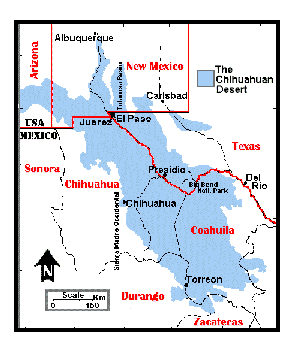 Adapted from an original map by Schmidt, 1979.

Before we start, let's take a quick quiz to see how much you already know. Just click on your answer.

The Chihuahuan Desert is a vast waste land with little plant and animal life.

Which group of animals best describes the Chihuahuan Desert's ancient past?
Coyotes, rattlesnakes, jack rabbits

The Franklin Mountains are in geological time:

Earthquakes and volcanoes do not occur in the West Texas area.

CLICK HERE to learn about the early history of the Chihuahuan Desert.

CLICK HERE to meet the authors of this module