Vulcanism—Cerro El Cristo Rey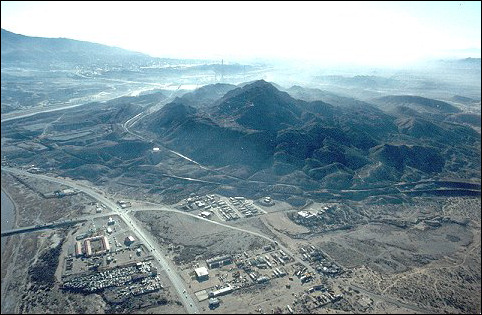 Cerro El Cristo Rey straddles the US-Mexico border. Photograph by Scott M. Cutler, 9 March 1998.
Igneous outcrops may form massive ranges, such as the Organ Mountains, medium-sized peaks, or flat lava flows--and every permutation between. The photo above is of a volcanic intrusion known as Cerro El Cristo Rey, among other names, presumably because of the large statue of Jesus at its apex. In pushing its way toward the surface, the igneous mass has upturned sedimentary strata around its edges. The view is to the south, looking toward the Pass of the North, where the Rio Grande (circling around the left side of the peak) passes between the Franklin Mountains (visible on the upper left) and the Juárez Mountains (mostly concealed by the bank of smog). A suitable ford across the Rio allowed passage across the river, an important point on the Spanish-era Camino Real (the "Royal Road", running from Mexico City to Santa Fe, New Mexico).
Air pollution is a fact of life for the larger cities in the valleys and bolsons of the desert, particularly during winter. In this picture, the approximately 2 million people in the combined populations of El Paso, Texas, and Juárez, México, pour enormous amounts of pollutants into the atmosphere. Cold air, draining from nearby highlands, pools in the lower elevations during the night. Such temperature inversions, where colder, heavier air lies below warmer air, traps pollution in the layer of colder air. Insolation from the sun eventually heats that air to the point where it can mix with the air above.