Sharp-shinned Hawk (Accipiter striatus)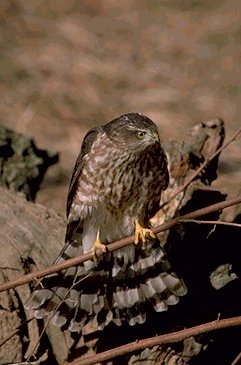 Name Derivation:
Accipiter: derived from Latin accipere meaning "to take or seize", referring to the genus' habit of seizing prey
striatus: Latin for striped, referring to the tail pattern
Sharp-shinned refers the amount of leg exposed below the feathering;
Hawk: from the Teutonic base word hab, meaning "to seize or take hold", the word evolved into Middle English hauk from which comes "hawk".
Other names:
Little Blue Darter; Spanish - esmerejón coludo, gavilán pajarero
Systematics:
Class: Aves; Order: Falconiformes; Family: Accipitridae
Key Identification Characters:
Adult: dark blue-gray upper parts, underparts barred with rufous color; tail long with end slightly notched or squared; in flight, wings relatively short and rounded; eyes yellow-orange to red; immature: brownish upperparts with white spots on back, brown streaking on breast; tail as with adult; eyes pale yellow; generally small size, males and females look similar but females often larger than males. Length, 11"; wingspan, 23".
Distribution:
North America southward to Argentina, West Indies.
El Paso Region: fairly common migrant and winter resident, occasional nesting at higher elevations
Food:
Mainly small birds, some small mammals including bats, some insects (grasshoppers, dragonflies, beetles, large butterflies), rarely lizards, snakes and frogs.
Breeding:
Number of eggs/clutch: normally 4 or 5; egg: bluish white, blotched and spotted with shades of brown, 1.45 x 1.15"; nesting: concealed in conifer trees near hunting areas, about 10 to 60' above ground, a shallow platform of interwoven conifer twigs

Photo Credit: Tom Brakefield, © California Academy of Sciences.
Contributor: Scott M. Cutler, Curator of Collections and Exhibits; Curator of Ornithology