Cooper's Hawk (Accipiter cooperii)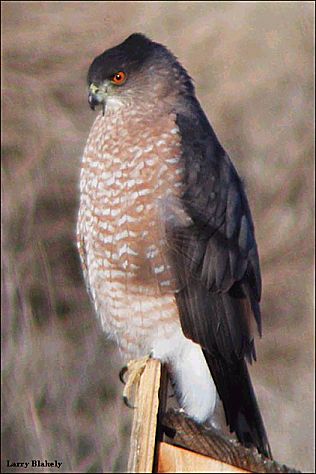 Name Derivation:
Accipiter: derived from Latin accipere meaning "to take or seize", referring to the genus' habit of seizing prey
cooperii: Latinized form of "Cooper"
Cooper's: In honor of William Cooper (1798? - 1864), an American zoologist who was interested not only in birds but in vertebrate paleontology and conchology (shells). He studied zoology in Europe from 1821 to 1824 and in later years traveled at various times in Nova Scotia, Kentucky and the Bahamas. His accumulated collections were well respected and used as reference by many other researchers such as John James Audubon, Charles Lucien Bonaparte and Thomas Nuttal for their work. In one instance, Audubon tried to rename the Cooper's hawk even though Bonaparte had already done so. The rules of nomenclature prevailed and the bird remains to this day the Cooper's hawk.
Hawk: from the Teutonic base word hab, meaning "to seize or take hold", the word evolved into Middle English hauk from which comes "hawk".
Other names:
Chicken Hawk, Big Blue Darter; Spanish - esmerejón de Cooper, gavilán palomero
Systematics:
Class: Aves; Order: Falconiformes; Family: Accipitridae
Key Identification Characters:
Adult: dark blue-gray upper parts, underparts barred with rufous color; tail long with end rounded in flight; wings relatively short and rounded; eyes yellow-orange to red; immature: brownish upperparts with white spots on back, brown streaking on breast; tail as with adult; eyes pale yellow; generally small to medium size, males and females look similar but females often significantly larger than males. Length, 21"; wingspan, 31".
Distribution:
Southern Canada southward to northern Central America.
El Paso Region: common migrant and winter resident, occasional summer resident.
Food:
Mainly medium-sized birds (jays, flickers, up to pheasant size), some mammals (mouse size to ground squirrel size); large insects; rarely reptiles and small fish in drying ponds.
Breeding:
Number of eggs/clutch: range of 3 to 6; normally 4 to 5; Egg: bluish white, unmarked or faintly spotted with pale brown, 1.90" x 1.45" Nesting: about 25-50' above ground in mixed-species forest; platform of interwoven twigs lined with bark chips and occasional green twigs.

Photo Credit: © Larry Blakely.

Contributor: Scott M. Cutler, Curator of Collections and Exhibits; Curator of Ornithology