Catclaw Acacia (Senegalia greggii)
Overview of Catclaw Acacia. Photograph by Wynn Anderson.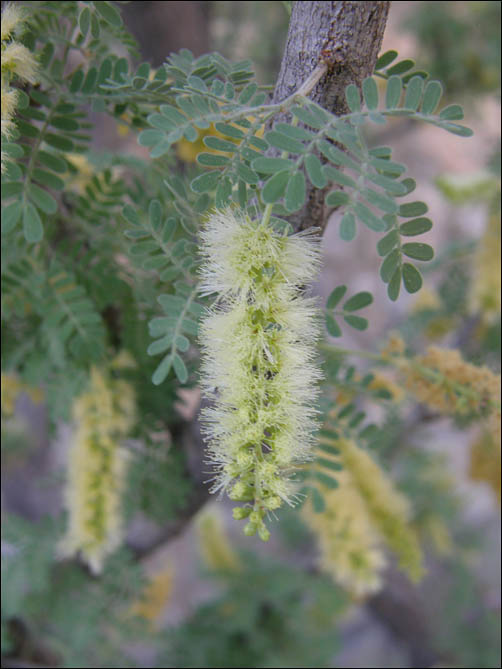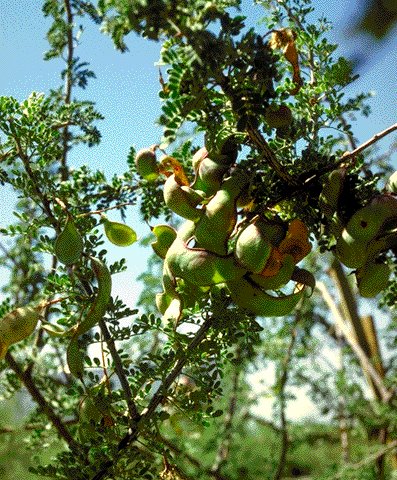 Flowers and seed pods. Photographs by Wynn Anderson.

Common English Names: Catclaw Acacia
Common Spanish Names: Uña De Gato, Gatuño, Tesota
Scientific Name: Senegalia greggii (sen-uh-GAL-lee-uh GREG-ee-aye)
Family: Fabaceae (Legume Family)
Geographic Range: Widespread in Chihuahuan Desert Region, from Coahuila, Chihuahua, and Durango south and from central Texas to California, Nevada, Utah, and northern Mexico.
Plant Form: Shrub from 6' H, up to tree at 30' H.
Remarks:: Cylindrical (rod-like), creamy yellow, fragrant flowers in spring, occasionally thereafter; multi-trunked tree or thicket-forming shrub with feathery foliage and flat curling seed pods; stout recurved cat-claw thorns on slender spreading branches.
Landscape Use:: Sometimes commercially available, mostly for erosion control. The stiff vicious thorns make the plant an effective barrier hedge plant and the fragrant flowers provide excellent honey. It is slow growing, needs good drainage, tolerates a wide range of soils; low water and full sun, hardy to 20°.
Ethnobotany: Ethnobotanical comments by Jane SpottedBird. To return to this page, use the back button on your browser.
Notes: The variety S. greggii v. wrightii (Wright's Acacia) is a thicket forming shrub found on the Edwards Plateau and south into the Rio Grande Plains and Tamaulipas, Mexico.

Last Update: 10 Sep 2013