Casas Grandes

Paquimé, better known as Casas Grandes by non-archaeologists, was a major cultural and trade center in northwestern Chihuahua for hundreds of years before the entry of the Spanish into northern Mexico. Apparently culturally affiliated in many ways to Mesoamerica to the south, Casa Grandes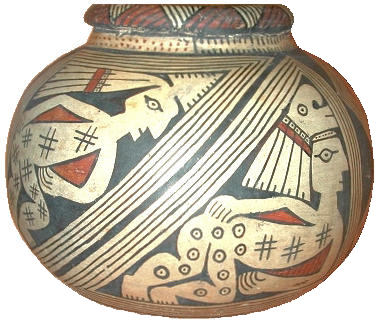 acted as an intermediary between Central American peoples and the Mogollon and Hohokam peoples to the north, with a major influence reaching from central New Mexico in the north to central Chihuahua in the south: the Casas Grandes Interaction Sphere. (However, for a somewhat different view, see Casas Grandes and Its Hinterlands, Prehistoric Regional Organization in Northwest Mexico by M. E. Whalen and P. E. Minnis, 2001, University of Arizona Press.) Its peak of development occurred in the 13th and 14th centuries. Indicative of its size and importance, the ruins include more than 2000 rooms.
Trade items included shells, copper, pottery, and macaws.
The general populace probably best knows Casas Grandes for its outstanding pottery. In recent years, the pottery industry has been revived and modern Casas Grandes pottery is in high demand. Use the menu link to "Casas Grandes Pottery" to access images and coloring pages.
Casas Grandes pottery.
Figure with macaw headdress (CM 1936.85.18).
To access maps of the region and a Casas Grandes chronology, use the menu link to the "Casas Grandes Interaction Sphere".

Last updated: 30 Sep 2006