CENTENNIAL MUSEUM - CHIHUAHUAN DESERT GARDENS—THE UNIVERSITY OF TEXAS AT EL PASO

CRADLEBOARDS
The four cradleboards in the Centennial Museum collections illustrate the diversity of cultural expression. Generally, cradleboards are used during the first year of a child's life as a safe horizontal or vertical bed that can be easily moved.
MESCALERO APACHE CRADLEBOARD
CM 1936.152.3

This Mescalero Apache cradleboard has a shaped frame to which splints are attached with twine. Additions are tanned leather flaps, trimmed with bright blue glass seed beads. Rawhide lacings secure the baby.
HUPA CRADLE BASKET
CM 1964.74.1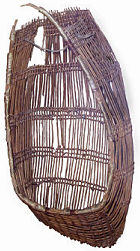 The slipper shaped Hupa cradle basket is woven of plant splints, perhaps from a hazel bush, and tied together with root twine. Coloring Page
NAVAJO (Diné) CRADLEBOARD
CM 1956.2.1

The Navajo Cradleboard has two wooden planks with a foot rest for its basics structure. Rawhide lacings secure a bundled child.
"UNKNOWN AFFILIATION"
CRADLEBOARD ?
CM 1961.27.1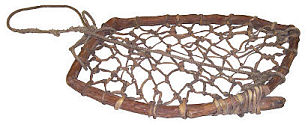 This cradleboard was in the donor's grand-mother's possession in 1881 and brought to El Paso by the grandmother. Its affiliation is a "mystery" waiting to be solved.


Visit the Centennial Museum website at
http://museum.utep.edu/educate/learninglinks/LLintroduction.htm
for Learning Links: Mescalero Apache Cradleboard Coloring Page (
PDF
); Hupa Cradle Basket Coloring Page (
PDF
). ©Centennial Museum. fes 06