Scarlet Spiderling (Boerhavia coccinea)
Scarlet Spiderling (Boerhavia coccinea), Organ Mountains, New Mexico. Photographs by Gertrud Konings.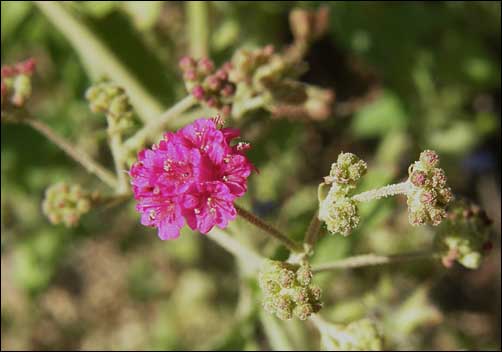 Flowers and buds, Chihuahua, Mexico. Photograph by Wynn Anderson.

Common English Names: Scarlet Spiderling, Garnet spiderling, Red spiderling
Common Spanish Names: Hierba del cancer, Hierba del hormiga
Scientific Name: Boerhavia coccinea (beer-HAH-vee-uh cock-SIN-ee-uh)
Family: Nyctaginaceae (Four-o'clock Family)
Geographic Range: widespread, usually in disturbed sandy or gravelly soils, roadsides, waste places, arroyos, and outwash fans, southern California, Arizona, southwestern New Mexico, Trans-Pecos region to south Texas, Tamaulipas, and San Luis Potosí, Mexico, and south through South America. Also worldwide in tropical regions and as an adventive weed along eastern and southern US.
Description: A highly variable, weedy, perennial herb, but in our region usually decumbent or prostrate, well branched and spreading, stems long, sometimes villous or at least pubescent leafy throughout; leaves round, ovate to broadly lanceolate, thin, glabrous to pubescent, green above, paler below, with sinuate margins; flowers auxiliary to terminal in several flowered clusters, maroon, deep purplish red to pink or rarely yellow or white.
Landscape use: Seeds are occasionally sold for ornamental purposes, and while perhaps attractive the first year in the garden, this prolifically re-seeding annual weed rapidly becomes a neighborhood garden pest thereafter.
Notes: The purpose of the viscid, sticky internodal rings or bands on the middle to upper stems of the inflorescences of many Boerhavia species as well as other members of the Four-o'clock family is unknown. Some suggest they serve a barrier to protect flowers from ants and crawling insect herbivores. Others suggest they may serve a semi-carnivorous purpose, supplying extra nutriments absorbed from trapped insects and windblown organic matter at the time of flowering.

Last Update: 5 Oct 2013