Four-wing Saltbush (Atriplex canescens)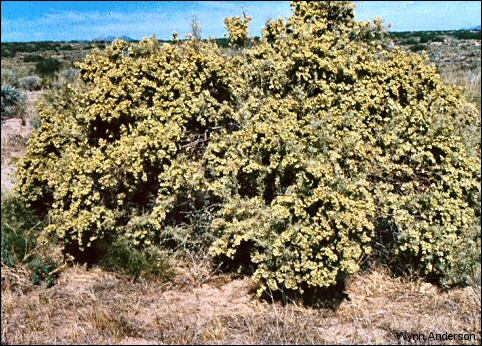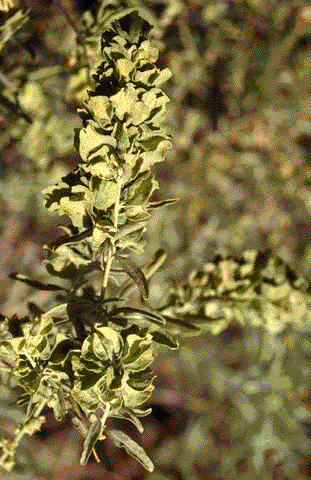 Female plant with a large crop of fruit. Near Coyote Hill, Camel Mts., Luna Co., NM. Photograph by Wynn Anderson.

Common English Names: Four-wing Saltbush, Shadscale, Wing-scale, Salt Sage
Common Spanish Names: Cenizo, Costilla de Vaca, Saladillo, Chamiza, Chamizo, Orache
Scientific Name: Atriplex canescens (AT-tri-pleks ka-NESS-enz)
Family: Chenopodiaceae (Goosefoot Family)
Geographic Range: Widely distributed from Canada across to southern California, Arizona, New Mexico east to Oklahoma and Texas south through Chihuahua, Coahuila, to San Luis Potosí, Mexico.
Plant Form: Evergreen shrub 5' H x 8' W.
Remarks: Rounded mound of densely branching stems with pale gray-green foliage and inconspicuous yellow-green flowers after rains from spring to fall followed by distinctive green, ripening to tan, winged seeds on female plants. Has been characterized as the most variable and rapidly evolving plant species in North America, with a wide variety of forms adapted to different ecological conditions. Low water, full sun to light shade, wide range of soils including salty or mineralized, very hardy. Excellent wildlife plant with edible seeds.

Last Update: 29 May 2004