Desert Columbine (Aquilegia chrysantha)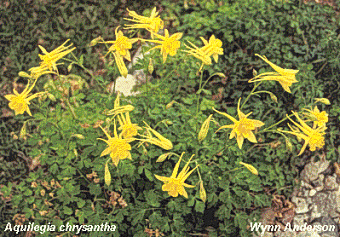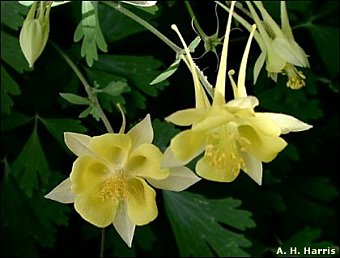 Overview of Aquilegia chrysantha. Image by Wynn Anderson. Closeup of Aquilegia chrysantha flowers; image by A.H. Harris.

Common English Names: Desert Columbine, Golden Columbine
Common Spanish Names: Aguileña
Scientific Name: Aquilegia chrysanthavar. chrysantha (ah-kwih-LAY-jee-uh kris-SAN-tha)
Family: Ranunculaceae (Buttercup Family)
Geographic Range: Sheltered canyons in Trans-Pecos Texas, to Colorado, New Mexico, and Arizona, and south into northern Mexico.
Plant Form: Perennial 12" x 24".
Remarks: Large long-spurred yellow flowers with lush, fine textured foliage. Prefers moist soils although will withstand short drought periods by going dormant and is more xeric than other columbines. Full or part shade, adaptable to most soils; hardy but dies back to basal rosette in winter.

Last Update: 24 Aug 2002