Pickleweed (Allenrofea occidentalis)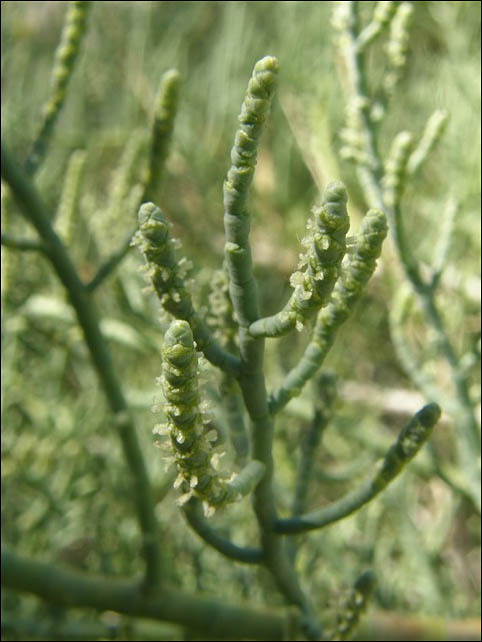 Pickleweed, Chihuahuan Desert Gardens. Photograph by Wynn Anderson.
Common English Names: Pickleweed, Iodine Bush
Common Spanish Names: None known
Scientific Name: Allenrolfea occidentalis (Wats.) O. Ktze (al-in-ROLL-fee-ah ox-ee-den-TAL-iss)
Family: Chenopodaceae (Chenopod Family)
Geographic Range: Oregon to New Mexico and western Texas; Baja California across to Chihuahua and Coahuila, south to Nuevo León and San Luis Potosí, Mexico.
Plant Form: Part woody, part succulent, erect shrub or half-shrub to 2 to 6' tall
Landscape Use: None
Remarks: Curious plant with swollen, succulent, distinctly articulated, branching upper stems displaying only tiny scale-like leaves. Found in saline and gypseous soils on alkaline flats and margins of saline playas and streams. Sap has an iodine-like character.

Last Update: 18 Aug 2013