Guajillo (Senegalia berlandieri)
Guajillo (Senegalia berlandieri). Photograph by Wynn Anderson.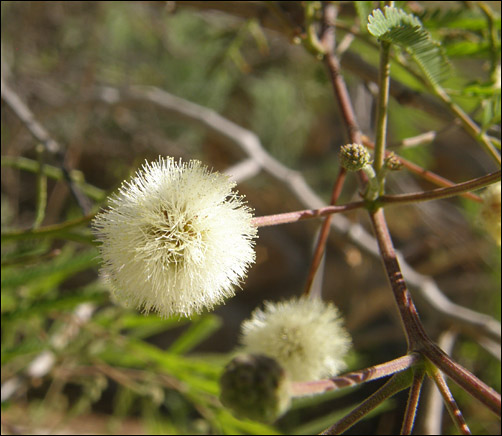 &nbsp.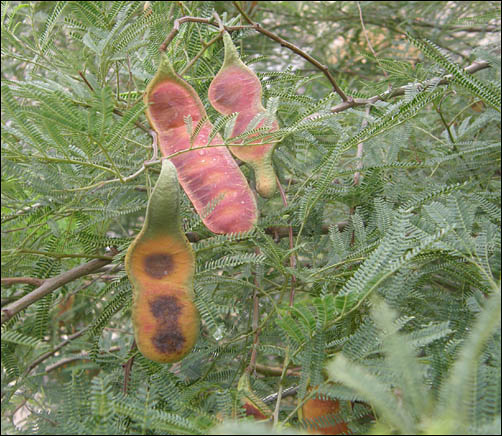 Flowers and seed pods of Guajillo. Photographs by Wynn Anderson.

Common English Names: Berlandier's Acacia
Common Spanish Names: Guajillo
Scientific Name: Senegalia berlandieri (sen-eh-GAL-ee-ah ber-LAN-dee-AIR-aye)
Family: Fabaceae (Legume Family)
Geographic Range: : Rio Grande Plains of south Texas and Tamaulipas northwest along Rio Grande into eastern Brewster County, Texas, and southeastern Chihuahua; south through Coahuila and northeastern Durango to San Luis Potosí, Querétaro, Hidalgo, and Veracruz, Mexico.
Plant Form: Large shrub at 10' H x 10' W, occasional small tree to 15+' H.
Landscape Use: A desirable, commercially available ornamental and famous honey plant; adaptable soil-wise, but needs good drainage, low water, full sun.
Description: Large woody shrub or small tree with fern-like leaves on multiple relatively thornless (small prickles only) woody stems; globose balls of fragrant, creamy white flowers in spring and occasionally later through fall; full sun.
Notes: Formerly known as Acacia berlandieri.

Last Update: 9 Sep 2013