Desert Diary
Plants/Redbud

Rushing to bloom in early spring, the Redbud has much to offer. Bees make quick use of the blossoms. The pink to magenta flowers are high in vitamin C, they can be pickled for salads, or added to breads, and even pancakes. You can put these blooms with alum in water and set this in the sun for a couple of days, and you will get a yellow dye. But you have to be there at just the right time because the pea-type flower clusters along the stems last only a few days, and then green leaves rush in, blending the trees back into the landscape of brushy arroyos and limestone hillsides. The Navajo roast the thin reddish brown bean pods, eat the seeds, and make an incense from the green leaves especially for their Mountain Chant Ceremony. They, along with other tribal groups, such as the Paiute and Washo split the twigs to weave patterns into baskets. As if that weren't enough, the Redbud adds wonderful Spring color just by standing in a landscape.
A variety of Cercis canadensis, the Mexican Redbud, can be seen in the Chihuahuan Desert Gardens on the UTEP campus.


Listen to the Audio (mp3 format) as recorded by KTEP, Public Radio for the Southwest.

Contributor: Florence E. Schwein, Centennial Museum, University of Texas at El Paso.
Desert Diary is a joint production of the Centennial Museum and KTEP National Public Radio at the University of Texas at El Paso.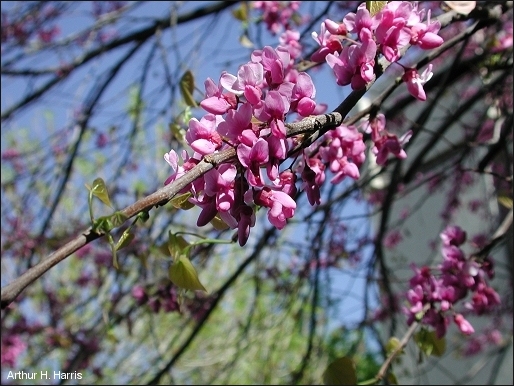 Redbud blossoms, 19 March 2001, University of Texas at El Paso campus. Photograph by A. H. Harris.

References
Cox, P. W. and P. Leslie. 1991. Trees: A Friendly Guide. Corona Publishing Company, Dallas, 374 pp.
Elmore, F. H. 1976. Shrubs and Trees of the Southwest Uplands. Southwest Parks and Monuments Association,Tucson, 2l4 pp.
Kirk, D. R. 1970. Wild Edible Plants of Western North America. Naturegraph Publishers, Happy Camp, CA, 307 pp.
Newman, S. C. 1992. Indian Basket Weaving: How to Weave Pomo, Yurok, Pima and Navajo Baskets. Northland Press, Flagstaff, 91 pp.
Powell, A. M. 1998. Trees and Shrubs of the Trans-Pecos and Adjacent Areas. University of Texas Press, Austin, 498 pp.
Simpson, B. J. 1998. A Field Guide to Texas Trees. Gulf Publishing Company, Houston, 372 pp.
Sweet, M. 1976. Common Edible and Useful Plants of the West. Naturegraph Publishers, Happy Camp, CA, 64 pp.
Tull, D. 1987. A Practical Guide to Edible and Useful Plants: Including Recipes, Harmful Plants, Natural Dyes and Textile Fibers. Texas Monthly Press, 518 pp. (518 pp)
Tull, D., and G. O. Miller. 1991. A Field Guide to Wildflowers, Trees & Shrubs of Texas. Gulf Publishing Company, Houston, 344 pp.