Desert Diary
Plants/Onions

The northern Chihuahuan Desert region is known for its variety of strong-scented plants. Most notable, of course, is creosotebush, whose scent after a rain denotes the very essence of our desert; other plants, cut or crushed, produce smells sour or bitter. The sweet odors of plants too numerous to mention perfume the desert air, though certainly the acacias deserve special mention. Perhaps more subtle than some is the faint odor of onions.
Although domestic onions often are raised in our Rio Grande Valley, these are not the bulbs native to the region; in fact, not native to the North American continent. Our onions consist of some eight species from Trans-Pecos Texas, southern New Mexico, and northern Mexico. Since their narrow leaves tend to blend into other vegetation or are just inconspicuous even in isolation, these natives usually evade notice. Until they bloom, that is. Then, the white, pink, or yellow flowers demand attention. To those in the know, the flowers and leaves speak out clearly: these are members of the lily family, nevertheless gently breathing out their uniqueness.



Contributor: Arthur H. Harris, Laboratory for Environmental Biology, Centennial Museum, University of Texas at El Paso.
Desert Diary is a joint production of the Centennial Museum and KTEP National Public Radio at the University of Texas at El Paso.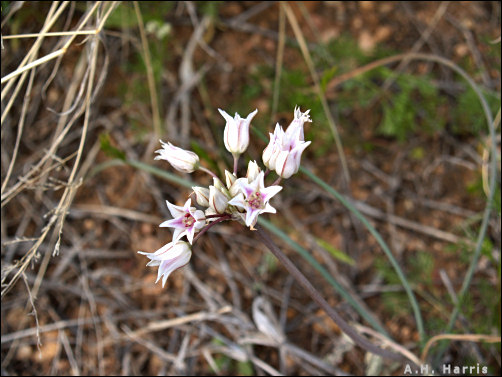 Flower cluster of the Large-flower Onion (Allium macropetalum), El Paso Museum of Archeology, El Paso, Texas. Photograph by A.H. Harris.

References
Web Resources