Desert Diary
Plants/Columbine Preservation

Lady's Slipper, Rock bells, Honey horns: all regional names that only begin to tell the story of the columbine. Columba is Latin for dove, and the three-lobed, yellow-green leaf has the shape and proportion that suggest the silhouette of this bird of peace.
Travelers to the Chihuahuan Desert are surprised to find our special beauty Aquilegia chrysantha and its near relatives in area gardens and even more surprised to learn that it grows near dripping water in moist oasis areas in mountain canyons of the Trans-Pecos Region. The golden-yellow, bell-like flowers may bloom from April to October. Their beauty betrays them in the wild, however, because we are so tempted to pick them.
Protecting these gifts of the desert means leaving them. Better to take away a memory, a photo, or a drawing and preserve its peaceful environment.


Listen to the Audio (mp3 format) as recorded by KTEP, Public Radio for the Southwest.

Contributor: Florence E. Schwein, Centennial Museum, University of Texas at El Paso.
Desert Diary is a joint production of the Centennial Museum and KTEP National Public Radio, University of Texas at El Paso.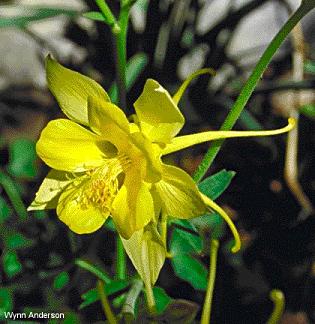 Flower of Aquilegia chrysantha. Photograph by Wynn Anderson.

References
West, S. 2000. Northern Chihuahuan Desert Wildflowers: A Field Guide to Wildflowers and Other Plants of the Desert and Its Parklands. Falcon, Helena, 221 pp.
Coffey, T. 1993. The History and Folklore of North American Wildflowers. Houghton Mifflin Company, New York, 356 pp.
Warnock, B. H. 1977. Wildflowers of the Davis Mountains and the Marathon Basin, Texas. Sul Ross State University, Alpine, 274 pp.