Desert Diary
Mammals/Packrat Middens

To the scientist, history doesn't start with the written record. Messages from the past tell us about the Chihuahuan Desert Region as it was many thousands of years ago. These informative missives take many forms, but one of the most interesting is the packrat midden.
Middens are a combination garbage heap and toilet. The rodents exploit a small area around their dens, collecting plants for food as well as debris to protect their nests. Deposits of dehydrated packrat urine, forming an antibacterial agent known as amberat, help preserve the leftovers. Middens may last for over 40,000 years when located within such protective areas as caves and rock shelters.
The various layers can be radiocarbon dated, placing the deposits into a timeline. The preserved flowers, leaves, and stems tell us what was growing within a few hundred feet of the den and when they grew there, creating a history of plant change through time. And since they rely on temperature and moisture, the plants also tell a tale of climate change.


Listen to the Audio (mp3 format) as recorded by KTEP, Public Radio for the Southwest.

Contributor: Arthur H. Harris, Laboratory for Environmental Biology, Centennial Museum, University of Texas at El Paso.
Desert Diary is a joint production of the Centennial Museum and KTEP National Public Radio at the University of Texas at El Paso.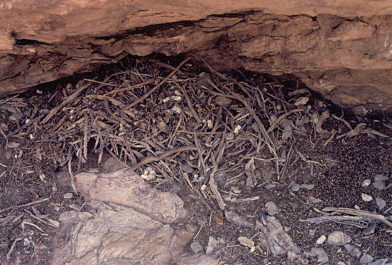 A packrat midden in a rock shelter, Doña Co., NM. Photograph by Scott Cutler.

References
Betancourt, J. L., T. R. Van Devender, and P. S. Martin. 1990. Packrat Middens. The Last 40,000 Years of Biotic Change. University of Arizona Press, Tucson, 467 pp.