Desert Diary
History/Fort Wingate, 1914

Citizens from Gallup, New Mexico, traveled 14 miles by wagon to hear the "Star Spangled Banner" played by a Mexican band interred at Fort Wingate on July 4, 1914. Although not prisoners of a declared war, over 2000 Mexican troops and their families were the first to be held in the United States since the War of 1812. There was unease in Juarez, Mexico, because of the US Army's 15000 armed neutrals and the US arms embargo. In El Paso, Texas, President Victoriano Huerta's threats, Pancho Villa's boast of having 15,000 men on site, and Venustiano Carranza's reported 20,000 troops caused great concern.
The abandoned Fort Wingate was considered to be a safe haven until an internationally recognized leader of Mexico could officially request their return. When Carranza became the elected president of Mexico, President Wilson accepted Carranza's signature on a writ of habeas corpus and General Tasker Howard Bliss personally traveled to Fort Wingate to end the 5-month internment. By September 24, 1914, the sounds of the Mexican band were only a memory as Fort Wingate was once again deactivated.


Listen to the Audio (mp3 format) as recorded by KTEP, Public Radio for the Southwest.

Contributor: Florence E. Schwein, Centennial Museum, University of Texas at El Paso.
Desert Diary is a joint production of the Centennial Museum and KTEP National Public Radio at the University of Texas at El Paso.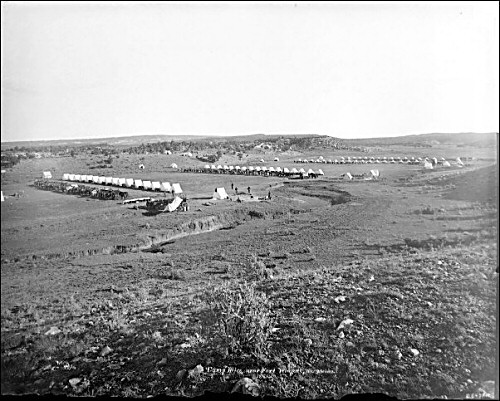 Encampment at Fort Wingate. Photograph from Ben Wittick glass-plate collection, Centennial Museum.

References
Noe, S. 2002. Fort Wingate Internees: Mexican Revolution Bleeds Over to U. S. New Mexico Magazine, October 2002:61-64.
Web Resources