Desert Diary
History/Pancho Villa's Raid

In 1916, Columbus, New Mexico, was a rail watering stop and border station for the El Paso and Southwestern Railway. The United States Government was backing Mexico's President Carranza in his struggles, so the revolutionist Francisco "Pancho" Villa could no longer purchase munitions here.
At 4:25 a.m. on March 9, a battle erupted when the Villanistas attacked the Thirteenth U.S. Cavalry barracks. The 2½-hour battle ended with the Mexican revolutionaries withdrawing into Mexico, closely followed by U.S. soldiers and civilians. Accounts vary as to whether or not Pancho Villa actually led the raid, but they agree that one objective had been to rob the train that came through this border gateway community each morning.
Six days later, General Black Jack Pershing led a futile punitive expedition into Mexico in search of the elusive Villa and his followers. This search utilized airplanes for the first time by the United States Military. Lack of parts, navigational problems, and the dry desert climate played havoc, causing many of the planes to crash. Today, in Columbus, a park is dedicated in memory of the events that began March 9, 1916.


Listen to the Audio (mp3 format) as recorded by KTEP, Public Radio for the Southwest.

Contributor: Florence E. Schwein, Centennial Museum, University of Texas at El Paso.
Desert Diary is a joint production of the Centennial Museum and KTEP Public Radio at the University of Texas at El Paso.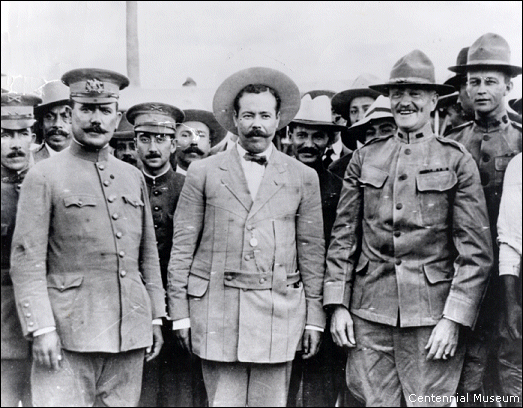 Photograph taken in 1915 of Pancho Villa (center), General Pershing (right), and Álvaro Obregón (left). Obregón later joined Carranza against Villa; he became president of Mexico in 1920. Image from the collections of the Centennial Museum.

References
Rakocy, B. 1981. Villa Raids Columbus, New Mexico, March 9, 1916. Bravo Press, El Paso, 162 pp.
Rakocy, B. 1991. 1916 Villa Raid. Bravo Press, El Paso, 328 pp.
Metz, L. C. 1993. El Paso Chronicles: A Record of Historical Events in El Paso, Texas. Mangan Books, 308 pp.
Web Resources
Pancho Villa State Park, Columbus, NM.