Desert Diary
History/Tiguas

In 1751, Charles V of Spain made a land grant to what now is Ysleta del Sur Pueblo, providing for protected land and an independent government for the Indians. As was customary, the King gave the Tigua Governor a cane as an outward symbol of authority.
Later, when Texas split from Mexico, it reconfirmed the validity of grants made by its predecessors. Even after Texas became part of the United States, the Treaty of Guadalupe Hidalgo promised protection of individuals owning private property. But during the Civil War, we were a divided nation, and Texas became part of the Confederacy. So as fate would have it, when President Abraham Lincoln issued land patents and the "Lincoln Canes" to acknowledge the sovereignty of the New Mexican Pueblos, Ysleta del Sur Pueblo was not within his jurisdiction.
It took another 103 years for the Tiguas to be formally recognized as a tribe. Twenty years later, August 19, 1987, it was President Reagan who signed the bill making the Tiguas a Federally recognized tribe.


Listen to the Audio (mp3 format) as recorded by KTEP, Public Radio for the Southwest.

Contributor: Florence E. Schwein, Centennial Museum, University of Texas at El Paso.
Desert Diary is a joint production of the Centennial Museum and KTEP National Public Radio at the University of Texas at El Paso.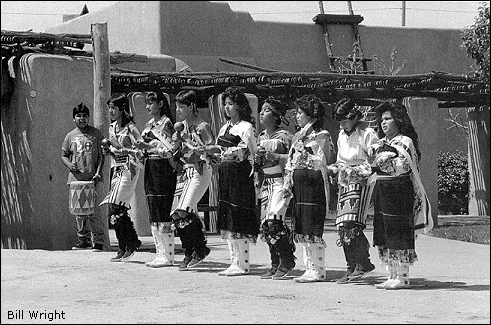 Tigua dancers, photograph by Bill Wright. Used with permission of the photographer and Texas Western Press.

References
Eggan, F. 1979. Handbook of North American Indians, vol. 9, Smithsonian Institution, Washington, D.C.
Eickhoff, R. L. 1996. Exiled: The Tigua Indians of Ysleta del Sur. Plano, Texas: Republic of Texas Press, Plano, Texas, 232 pp.
Wright, B. 1993. The Tiguas: Pueblo Indians of Texas. Texas Western Press, El Paso, 161 pp.
Web resources
Handbook of Texas Online.