Desert Diary
History/Thanksgiving

Hoping for new fortunes, Spain's Phillip II gives a royal decree in the 1580's authorizing the Viceroy of New Spain to find a suitable leader to bear most the costs to organize an expedition to settle the northern frontier. After stiff competition, the contract is awarded to the wealthy Don Juan de Oñate.
In January, 1598, your party leaves Santa Barbara with 400 men, 130 of whom are taking families, 7000 head of stock, and 83 wagons and carts to carry provisions. The Samalayucca sand dunes seem endless. Finally your group is reunited along the beautiful banks of the Rio Grand with the vanguard that traveled ahead to look for water. The indigenous Mansos have joined you and everyone is rejoicing and feasting.
On April 30, 1598, the Governor and Captain General of New Mexico, Don Juan de Oñate, conducts La Toma at the river's edge, taking possession of the entire territory drained by the Rio Grande for his monarch and laying the foundation for over 2 centuries of Spanish rule in the Southwest. The Spanish have been in St. Augustine, Florida, since 1565, but it will be another 9 years before English colonists establish Jamestown, Virginia, and 22 before thepilgrims will land at Plymouth Rock in Massachusetts.


Listen to the Audio (mp3 format) as recorded by KTEP, Public Radio for the Southwest.

Contributor: Florence E. Schwein, Centennial Museum, University of Texas at El Paso.
Desert Diary is a joint production of the Centennial Museum and KTEP National Public Radio at the University of Texas at El Paso.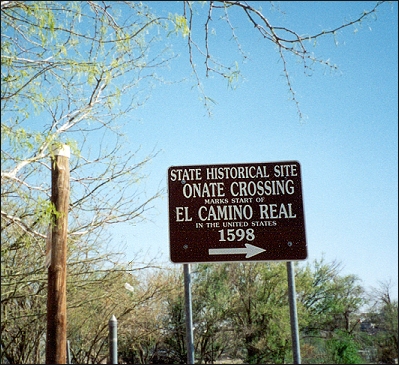 Historic marker of Oñate's crossing of the Rio Grande; this spot also marks the beginning of the United States portion of the Camino Real.

References
Bannon, J. F. 1974. The Spanish Borderlands Frontier, 1513-1821. University of New Mexico Press, Albuquerque, 308 pp.
Kingston, M. 1991. A Concise History of Texas. Gulf Publishing Co., Houston, 240 pp.
Web Resources
Juan de Oñate. The Handbook of Texas Online.