Desert Diary
History/Missions

For over 3 centuries, the well-traveled Camino Real, or Royal Road, connected the New Spain communities of Santa Fe and Mexico City. Missions were established along this trail, and each became the nucleus of a village. In 1662, the colonial Misión de Nuestra Señora de Guadalupe was established. Twenty years later, after the Pueblo revolt in the north, the Ysleta and Socorro missions were founded. The needs of the Spanish military brought about the Presidio and Chapel of San Elizario. These settlements, along with those at San Lorenzo and Senecu, were all part of the Camino Real network of villages, farms, and ranches that became the vital communication link between Santa Fe and Mexico City.
When this group of communities was established, all were on the south side of the Rio Grande. With a shift of the river, Ysleta, Socorro, and San Elizario are now on the north side in the United States and Misión de Nuestra Señora de Guadalupe, San Lorenzo, and Senecu are in Mexico.


Listen to the Audio (mp3 format) as recorded by KTEP, Public Radio for the Southwest.

Contributor: Florence E. Schwein, Centennial Museum, University of Texas at El Paso.
Desert Diary is a joint production of the Centennial Museum and KTEP National Public Radio at the University of Texas at El Paso.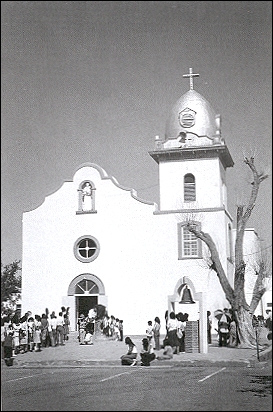 Spanish Mission. Photograph by Bill Wright.