Desert Diary
History/Cinco de Mayo

Cinco de Mayo marks an incredible victory of the Mexican army and the citizens of Puebla over the French in 1862. Napoleon III of France decided rather than try to settle the repayment of Mexican debts through diplomatic channels, he would conquer the country.
At Puebla, General Ignacio Zaragoza sent Colonel Porfirio Diaz and his Mexican cavalry to attack a flank of the advancing French army. Leaving only infantry at the center of the line, cavalry from the other flank of the French army fell in behind the Mexican horsemen. At this point, the ingenious Zaragoza stampeded a herd of cattle ahead of his troops, splintering the French forces.
The Mexicans soundly defeated Napoleon's larger army. However, French takeover was inevitable and on April 10, 1864, Napoleon III named Ferdinand Maximilian von Hapsburg Emperor of Mexico. Stories, songs, and reenactments of the Puebla battle so inspired the citizens with hope that they continued to resist, and only 3 years later Maximilian surrendered, and Mexico's occupation by a foreign power was over.


Listen to the Audio (mp3 format) as recorded by KTEP, Public Radio for the Southwest.

Contributor: Florence E. Schwein, Centennial Museum, University of Texas at El Paso.
Desert Diary is a joint production of the Centennial Museum and KTEP National Public Radio at the University of Texas at El Paso.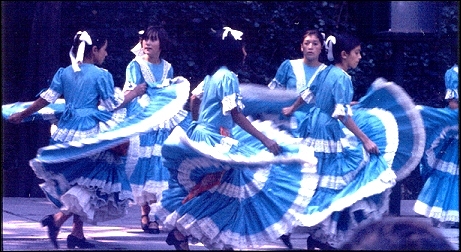 School girls celebrating by dance. Photograph by Scott M. Cutler.

References
Menard, V. 2000. The Latino Holiday Book. Marlowe and Co., NY, 174 pp.
Milord, S. 1999. ¡Mexico! (Forty Activities to Experience Mexico, Past and Present. Williamson Publishing, Charlotte, VT, 96 pp. [4th grade and up]