Gray Fox
Urocyon cinereoargenteus


Order: Carnivora
Family: Canidae (Dog-like Mammals)
Species: Urocyon cinereoargenteus (you-row-SIGH-on sin-air-ree-oh-are-GEN-tee-us)
Common English Names: Gray Fox
Common Spanish Names: Zorra Gris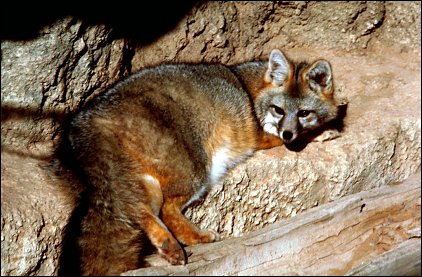 Urocyon cinereoargenteus. Photograph by Gary M. Stolz.

Remarks
Sometimes referred to as the Common Gray Fox, the Gray Fox is essentially an inhabitant of brushy and wooded areas, particularly mixed hardwood forests (Alden et al. 1999). Other habitats may include chaparral and rimrock country (Burt and Grossenheider 1976). Gray Foxes occur within the entire Chihuahuan Desert, but their preferred locale is in the pinyon-juniper mountainous regions above the low lying deserts (Schmidly 1977). The dens are generally built in hollow logs or trees, under rocks or in rocky crevices, and sometimes in underground burrows (Schmidly 1977; Davis and Schmidly 1994).
References
Alden, P., B. Cassie, P. Friederici, J. D. W. Kahl, P. Leary, A. Leventer, and W. B. Zomlefer. 1999. National Audubon Society field guide to the southwestern states. Alfred A. Knopf, New York.
Burt, W. H., and R. P. Grossenheider. 1976. A field guide to the mammals. Houghton Mifflin, Boston.
Davis, W. B., and D. J. Schmidly. 1994. The mammals of Texas. Texas Parks and Wildlife Press, Austin.
Schmidly, D. J. 1977. The mammals of Trans-Pecos Texas including Big Bend National Park and Guadalupe Mountains National Park. Texas A&M University Press, College Station.
A. Ruth Huckaby, Graduate Student, BIOL 5301—Natural History of the Chihuahuan Desert, June, 2006.

Huckaby Update: 22 Jun 2006
Last Update: 26 Jul 2009