Little Brown Bat
Myotis lucifugus


Order: Chiroptera
Family: Vespertilionidae (Vespertilionid Bats)
Species: Myotis lucifugus (my-OAT-iss loo-SIFF-uh-gus)
Common English Names: Little Brown Bat
Common Spanish Names: Murcielaguito Moreno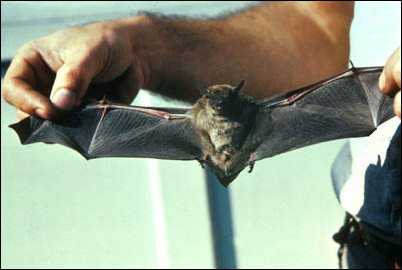 Myotis lucifugus. Photograph by Don Pfritzer, U.S. Fish and Wildlife Service.

Remarks
The general habitat for the Little Brown Bat includes woodlands and fields that are near water (Alden et al. 1999). This bat is a colonial dweller and spends the daytime roosting in crevices of canyon walls, caves, attics, or other places of concealment, emerging near dusk to feed and returning just before dawn (Burt and Grossenheider 1976). Its flight is erratic and relatively slow (Davis and Schmidly 1994). This species appears to be relatively rare in the Trans-Pecos as it has only been documented once in this region of Texas (Schmidly 1977; Tuttle 2003). Little is known with regard to the hibernation habits of the species (Tuttle 2003.
References
Alden, P., B. Cassie, P. Friederici, J. D. W. Kahl, P. Leary, A. Leventer, and W. B. Zomlefer. 1999. National Audubon Society field guide to the southwestern states. Alfred A. Knopf, New York.
Burt, W. H., and R. P. Grossenheider. 1976. A field guide to the Mammals. Houghton Mifflin, Boston.
Davis, W. B., and D. J. Schmidly. 1994. The mammals of Texas. Texas Parks and Wildlife Press, Austin.
Schmidly, D. J. 1977. The mammals of Trans-Pecos Texas including Big Bend National Park and Guadalupe Mountain National Park. Texas A&M University Press, College Station.
Tuttle, M. D. 2003. Texas bats. Bat Conservation International, Inc., Austin.
A. Ruth Huckaby, Graduate Student, BIOL 5301—Natural History of the Chihuahuan Desert, June, 2006.

Huckaby Update: 22 Jun 2006
Last Update: 23 Jul 2009