Eastern Red Bat and Western Red Bat
Lasiurus borealis and Lasiurus blossevillii


Order: Chiroptera
Family: Vespertilionidae (Vespertilionid Bats)
Species: Lasiurus borealis (lay-zee-URH-iss bore-ree-AL-us); Lasiurus blossevillii (lay-zee-URH-iss bloss-eh-VIL-ee-eye)
Common English Names: Red Bat
Common Spanish Names: Murciélago Rojizo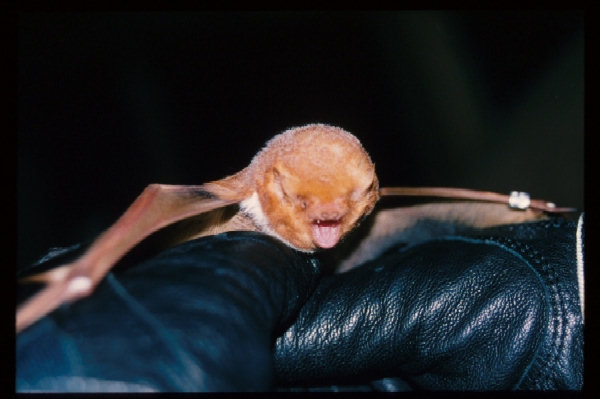 Red Bat (Lasiurus borealis). Photograph courtesy of the US Forest Service, USDA.

Remarks
The red bats, also referred to as the Eastern red bats, are forest dwelling, solitary bats and are one of the few North American species that roost in the open in trees (Burt and Grossenheider, 1996). They typically live alone or in a small family group of mother and young, and tend to live in variety of types of lowland forest habitats (Tuttle, 2003). They do not use sites such as cave, mine tunnels, or similar sites often frequented by other species. Roosting sites are commonly in tree foliage or Spanish moss, where the bats are concealed, resembling dead leaves. This bat is migratory and moves northward in spring and southward in fall (it is considered a year-round resident of eastern Texas but may only be a summer migrant in the western part of the state) (Schmidly, 1977). These bats winter in southern United States, Mexico, Bermuda, the Antilles, and perhaps even farther south (Davis and Schmidly, 1994).
A. Ruth Huckaby, Graduate Student, BIOL 5301-Natural History of the Chihuahuan Desert, June, 2006.
Huckaby Update: 22 June 2006

Further Remarks
The red bats of our region are now generally recognized as belonging to two separate species. Lasiurus borealis (Eastern Red Bat) lies mostly east of our region but may extend into the Trans-Pecos. Lasiurus blossevillii is western in distribution and has been taken as far east as the Sierra Vieja in Presidio County of the Trans-Pecos (Davis and Schmidley 1994).
References
Burt, W. H. and R. P. Grossenheider. 1976. A field guide to the mammals. Houghton Mifflin, Boston.
Davis, W. B. and D. J. Schmidly. 1994. The mammals of Texas. Texas Parks and Wildlife Press, Austin.
Schmidly, D. J. 1977. The mammals of Trans-Pecos Texas including Big Bend National Park and Guadalupe Mountains National Park. Texas A&M University Press, College Station.
Tuttle, M. D. 2003. Texas bats. Bat Conservation International, Inc., Austin.
Web Resources
University of Michigan Museum of Zoology. A wealth of information.

Last Update: 23 Jul 2009