Townsend's Big-eared Bat
Corynorhinus townsendii


Order: Chiroptera
Family: Vespertilionidae (Vespertilionid Bats)
Species: Corynorhinus townsendii (cory-nor-RHIN-us town-SEN-dee-aye)
Common English Names: Townsend's Big-eared Bat
Common Spanish Names: Murciélago Orejas De Mula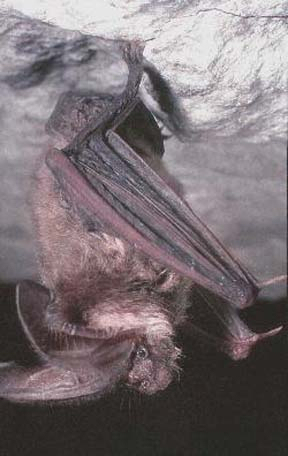 Corynorhinus townsendii. Photograph courtesy of the U.S. Fish and Wildlife Service.

Remarks
The range of this bat covers the southwestern states and it is most commonly found where caves or abandoned mine tunnels are available (Alden et al. 1999). Other common habitats include a wide range of areas, such as coniferous forests, mixed forests, and deserts, to stream and river areas of native prairies (Tuttle 2003). They do not seem to prefer to use crevices in such sites and may occasionally inhabit old buildings. As these bats are found in a variety of settings, they appear to show no preferred type of plant association (Schmidly 1977). In the Trans-Pecos, this is probably the most distinctive bat of caves and mines (Davis and Schmidly 1994).
References
Alden, P., B. Cassie, P. Friederici, J. D. W. Kahl, P. Leary, A. Leventer, and W. B. Zomlefer. 1999. National Audubon Society field guide to the southwestern states. Alfred A. Knopf,New York.
Davis, W. B. and D. J. Schmidly. 1994. The mammals of Texas. Texas Parks and Wildlife Press, Austin.
Schmidly, D. J. 1977. The mammals of Trans-Pecos Texas including Big Bend National Park and Guadalupe Mountains National Park. Texas A&M University Press, College Station.
Tuttle, M. D. 2003. Texas bats. Bat Conservation International, Inc., Austin.
Web Resources
§ The Mammals of Texas, Online Edition
A. Ruth Huckaby, Graduate Student, BIOL 5301-Natural History of the Chihuahuan Desert, June, 2006.

Huckaby Update: 22 June 2006
Last Update: 5 Aug 2006