Gray Wolf
Canis lupus


Order: Carnivora
Family: Canidae (Dog-like Mammals)
Species: Canis lupus (KAY-niss LOO-pus)
Common English Names: Gray Wolf
Common Spanish Names: Lobo Gris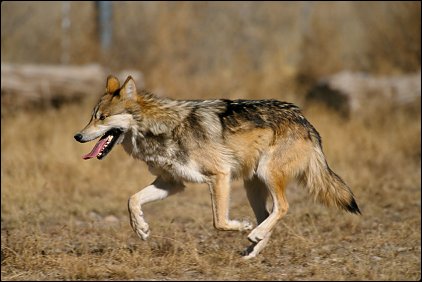 Captive Canis lupus at Sevilleta Wildlife Refuge, New Mexico. Photographer: Jim Clark.

Remarks
Also known as the Timber Wolf, the Gray Wolf inhabits forests, brushlands, or grasslands, preferring broken open country in which suitable cover and denning sites are available (Davis and Schmidly 1994). "Population estimates the range from 1 wolf for 40 square miles to 1 for 100 or more square miles" (Burt and Grossenheider 1976:70). Wolves mate for life and provide a den for their young, usually located dug into a hillside, a bank, or a crevice in a rocky bluff (Davis and Schmidly 1994). In the past, Gray Wolves were probably very common in the Trans-Pecos area (Schmidly 1977).
References
Alden, P., B. Cassie, P. Friederici, J. D. W. Kahl, P. Leary, A. Leventer, and W. B. Zomlefer. 1999. National Audubon Society field guide to the southwestern states. Alfred A. Knopf, New York.
Burt, W. H., and R. P. Grossenheider. 1976. A field guide to the mammals. Houghton Mifflin, Boston.
Davis, W. B., and D. J. Schmidly. 1994. The mammals of Texas. Texas Parks and Wildlife Press, Austin.
Schmidly, D. J. 1977. The mammals of Trans-Pecos Texas including Big Bend National Park and Guadalupe Mountains National Park. Texas A&M University Press, College Station.
A. Ruth Huckaby, Graduate Student, BIOL 5301-Natural History of the Chihuahuan Desert, June, 2006.

Huckaby Update: 22 Jun 2006

The range shown on the map is the historic range in the Southwest and Mexico—Canis lupus has been extirpated from the region, although limited reintroductions are underway. The wolf native to the Chihuahuan Desert Region is a subspecies of the Gray Wolf and often is called the Mexican Wolf. Size and coloration of the Gray Wolf varies greatly from one geographic area to another.—ahh

Last Update: 25 Jul 2009