Coyote
Canis latrans


Order: Carnivora
Family: Canidae (Dog-like Mammals)
Species: Canis latrans (KAY-niss LAY-trans)
Common English Names: Coyote
Common Spanish Names: Coyote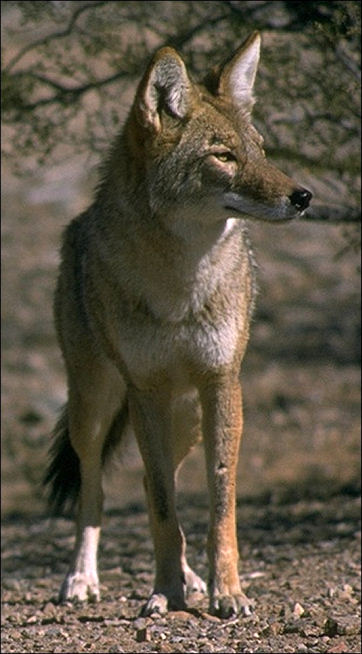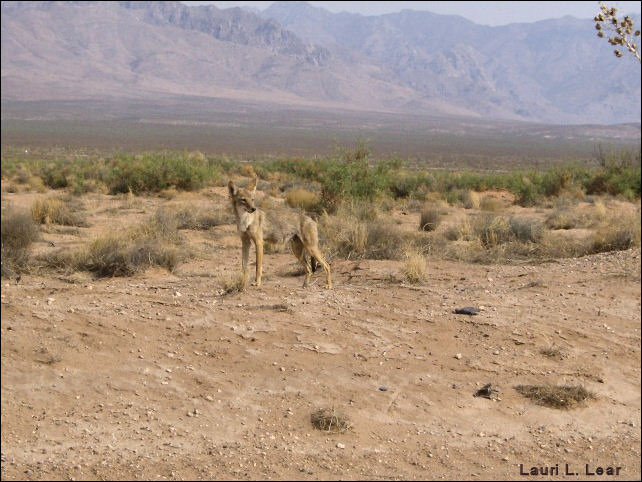 Fig. 1. Portrait of a Coyote (Canis latrans). Photographer: Dr. Lloyd Glenn Ingles, © 1999 California Academy of Sciences. Fig. 2. Coyote in the Chihuahuan Desert, courtesy of Lauri L. Lear.

Remarks
Also called "prairie wolf", "brush wolf" (or sometimes even "song dog"), the extensive range of the Coyote includes elevations from sea level to well over 3,000 m and habitats ranging from open plains and desertscrub through grassland into the timbered sections of the West, as well as farms and towns (Alden et al. 1999). In the Trans-Pecos, Coyotes are more abundant in grassland and desert scrub than mountain areas (Schmidly 1977). While this animal is considered to be largely nocturnal and associated with its characteristic "song", it may be on the move at any time looking for anything and everything to eat, animal or vegetable (Burt and Grossenheider 1976). The Coyote family group (a mated pair and their offspring) resides in their den, usually located along steep banks, brushy slopes, hollow logs, thickets, or rock ledges (Davis and Schmidly 1994).
References
Alden, P., B. Cassie, P. Friederici, J. D. W. Kahl, P. Leary, A. Leventer, and W. B. Zomlefer. 1999. National Audubon Society field guide to the southwestern states. Alfred A. Knopf, New York.
Burt, W. H., and R. P. Grossenheider. 1976. A field guide to the mammals. Houghton Mifflin, Boston.
Davis, W. B., and D. J. Schmidly. 1994. The mammals of Texas. Texas Parks and Wildlife Press, Austin.
Schmidly, D. J. 1977. The mammals of Trans-Pecos Texas including Big Bend National Park and Guadalupe Mountains National Park. Texas A&M University Press, College Station.
Web Resources
BISON, Biological Information System of New Mexico.

A. Ruth Huckaby, Graduate Student, BIOL 5301-Natural History of the Chihuahuan Desert, June, 2006.

Huckaby Update: 22 June 2006
Last Update: 25 Jul 2009