Assembly Garden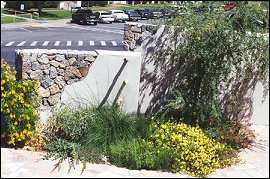 The Assembly Garden is shown in this image taken on 12 June 2000.
The Assembly Garden, built with generous contributions from Phi Kappa Tau alumni, consists of a number of threatened and endangered species facing a covered patio area that invites guests to linger and share gardening tips. Featured plants include Salvia summa and the Organ Mountains evening primrose. Prominent in this view is a screwbean mesquite (Prosopis pubescens), the bright yellow sun drops (Calylophus hartwegii), and, at the left, yellow bells (Tecoma stans).

Last update: 31 July 2000.