Desert Diary
Reptiles/Alligator Lizard

There are but two kinds of venomous lizards in the world, and they are found only in the Sonoran Desert and tropical lowlands of western Mesoamerica. To the regional Spanish-speaking people, these fearsome creatures are known as "escorpiones". In the montane woodlands within and around the Chihuahuan Desert, however, there is another lizard of the same name whose bite is also feared.
The "escorpion" of central and northern Mexico includes several species known as "alligator lizards". These foot-long lizards have the large heads and powerful jaws that superficially resemble their larger reptilian namesake. They often forage sluggishly for insects in the branches of shrubs . . . and their main defense should a predator (or person) approach is to become motionless and undetected. When seized, though, this lizard

can bite savagely, painfully but not venomously. Like some people, their bad reputation is out of proportion to their true personality.

Contributor: Carl S. Lieb, Laboratory for Environmental Biology, University of Texas at El Paso.
Desert Diary is a joint production of the Centennial Museum and KTEP National Public Radio at the University of Texas at El Paso.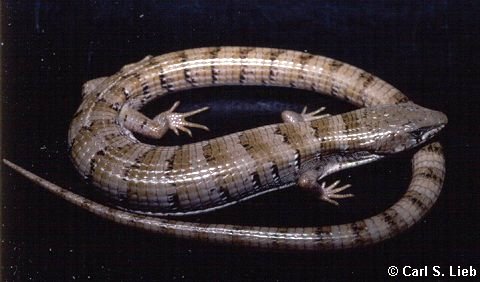 Madrean Alligator Lizard (Elgaria kingii). Photograph by Carl S. Lieb.

References
Popular:
Conant, R. and J. T. Collins. 1998. A field guide to reptiles and amphibians: Eastern and central North America, 3rd edition (expanded). Houghton Mifflin Co., Boston.
Garrett, J. M., and D. G. Barker. 1987. A field guide to reptiles and amphibians of Texas. Texas Monthly Press, Austin.
Miller, D. 1983. The Texas alligator lizard. Chihuahuan Desert Discovery 6:3.
Vermersch, T. G. 1992. Lizards and turtles of south-central Texas. Eakin Press, Austin.
Wauer, R. H. 1980. Naturalist's Big Bend. An introduction to the trees, shrubs, cacti, mammals, birds, reptiles and amphibians, fish, and insects. Texas A&M University Press, College Station.
Technical
Good, D.A. 1994. Species limits in the genus Gerrhonotus (Squamata: Anguidae). Herpetological Monographs (8):180-202.
McCoy, C. J. 1970. A new alligator lizard (genus Gerrhonotus) from the Cuatros Cienegas Basin, Coahuila, Mexico. Southwestern Naturalist 15:37-44.
Minton, S. A. 1959. Observations on amphibians and reptiles of the Big Bend region of Texas. Southwestern Naturalist 3:28-54.
Smith, H. M. 1946. Handbook of lizards. Comstock Publ. Co., Ithaca, New York.