Desert Diary
Plants/Tree Tobacco

Tree Tobacco, a native of Argentina, is one of a number of immigrants who have found a home along the Rio Grande of the Chihuahuan Desert. This attractive plant forms a small tree, reputedly up to some 20 feet tall. Fast growing, it quickly makes itself at home in areas having a little bit of extra water, such as arroyos or, in some areas, the disturbed soil along highways.
It is sometimes sold as a garden plant and does well with sufficient water. Its unusual large, bluish-gray leaves contrast nicely with most other ornamentals. Its moderately showy flowers are yellow tubes that are recommended for attracting hummingbirds.
Tree Tobacco is a member of the Potato family and, like some other family members, is highly toxic. Luckily, the plant is unpalatable to humans and most other animals, and poisoning is rare. An old saying, uttered after telling someone a fact he didn't want to hear, is "Put that in your pipe and smoke it!" This is advice that, when it comes to Tree Tobacco, you definitely don't want to take!



Contributor: Arthur H. Harris, Laboratory for Environmental Biology, Centennial Museum, University of Texas at El Paso.
Desert Diary is a joint production of the Centennial Museum and KTEP National Public Radio at the University of Texas at El Paso.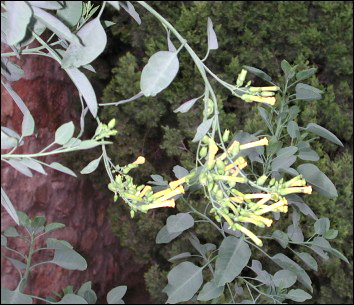 Leaves and flowers of Tree Tobacco (Nicotiana glauca) on the grounds of the Centennial Museum. Photograph by A.H. Harris.

References
Web Resources
Good pictures. Kaweah Oaks Preserve.
Some basic information. Department of Botany and Microbiology, University of Oklahoma.