Desert Diary
Plants/Sotol

You can drink it, wear it, or eat it—and you can even live in it. Sound too good to be true? Welcome to the world of the sotol. People of the Southwest and Mexico learned millennia ago of the many uses for these versatile plants, and their utilization continues today.
Drink it? Roast the main body of the plant, allow it to ferment, and with a little processing, you have the powerful, alcoholic drink also known as sotol. Wear it? Its leaves and leaf fibers have long been used for weaving—hats, baskets, mats, inner portions of brooms, ropes—you name it. Eat it? The inner body and leaf bases are rich in sugars, good for man and beast. During drought time, ranchers will even split the plant to give cattle access. Live in it? The long, stout flower stalks have been used to form walls of crude huts, and the leaves used for thatching.
Numerous plants supply useful goods, but few do as many things so well as our sotols.



Contributor: Arthur H. Harris, Laboratory for Environmental Biology, Centennial Museum, University of Texas at El Paso.
Desert Diary is a joint production of the Centennial Museum and KTEP National Public Radio at the University of Texas at El Paso.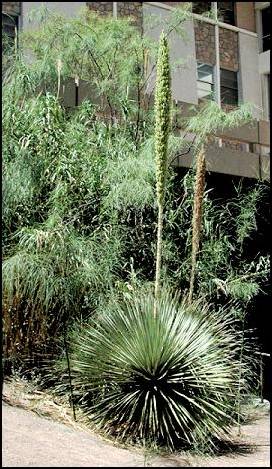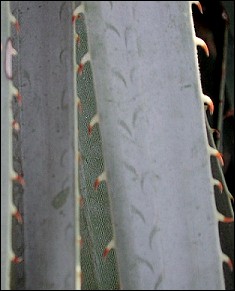 Left: Sotol in bloom on the University of Texas at El Paso campus. Right: Leaves of sotol, showing the formidable armament. Photographs by A.H. Harris.