Desert Diary
Plants/Saguaro

Let's think about a very common symbol—the circle with a diagonal slash across an image. Everyone gets the message not to park, eat, loiter, and a host of other things.
Maybe here in the Chihuahuan Desert we need to use that symbol over a Saguaro cactus to help people understand that this majestic plant simply does not and cannot thrive here or anywhere outside the Sonoran Desert. Perhaps we should become aggressive about this thorny matter—appreciate the Saguaro as the symbol of the Sonoran Desert and the Joshua Tree as a symbol of the Mojave, but finding a more appropriate symbol for us. After all, the Chihuahuan Desert is home to a greater variety of cacti than any other desert in North America, as well as magnificent succulents, like our yuccas or agaves. Let's demand our symbol be truly a Chihuahuan Desert resident. Look around you, do you see any candidate for the honor?


Listen to the Audio (mp3 format) as recorded by KTEP, Public Radio for the Southwest.

Contributor: Arthur H. Harris, Laboratory for Environmental Biology, University of Texas at El Paso.
Desert Diary is a joint production of the Centennial Museum and KTEP National Public Radio at the University of Texas at El Paso.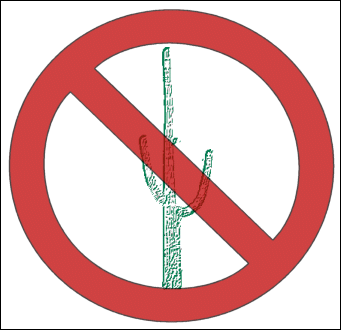 Comment on the Chihuahuan Desert versus the Saguaro.

References
Dimmitt, M. A. Pp. 2000. 193-218, in S. J. Phillips and P. W. Comus, eds. Arizona-Sonora Desert Museum Press, Tucson, 628 pp.
Web Resources