Desert Diary
Plants/Piñon

The Chihuahuan Desert Region consists of more than just desert. Mountain ranges raising above the plains and valleys extend upward into cooler and moister climates. Even the hardiest desert dweller likes a bit of variety, and the appearance of different plants and pygmy trees as he climbs is welcome.
One of the prizes through much of the region is the piñon--the small pine that begins to appear as the desert zone is left behind. The beauty of these woody plants extends beyond any delight to the eye. There can be no doubt that the resinous scent of a piñon open fire has pleased that most primitive of the five senses from the time of first entrance of people into the Southwest.
Long before that, mice and packrats knew the joys of what we late comers call piñon nuts, each with a quarter-inch kernel that cries for more. Packrats, though, lose no love on us--many a stash of laboriously gathered nuts, meant to last through winter, has been commandeered to support the gustatory delights of mankind.



Contributor: Arthur H. Harris, Laboratory for Environmental Biology, Centennial Museum, University of Texas at El Paso.
Desert Diary is a joint production of the Centennial Museum and KTEP National Public Radio at the University of Texas at El Paso.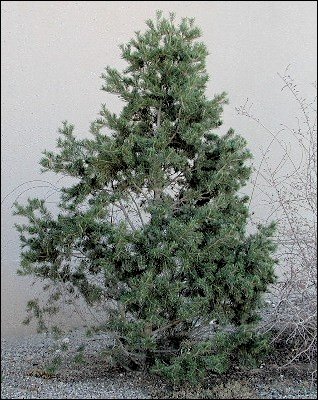 A young Piñon. University of Texas at El Paso campus. Photograph by A.H. Harris.

References
Web Resources
Plants of the Verde Valley & Sedona. Photographs and basic data.