Desert Diary
Plants/Organ Mts. Evening Primrose

Hardly any two places on earth have exactly the same combinations of environmental factors. Differences in temperature, sunlight, soils, water availability and seasonality, among many other features, see to that. As a result of these differences, the same kind of plant occurring in two separate areas is subjected to different environmental pressures. When a kind of plant becomes isolated from the rest of its kind by distance or unfavorable ecological conditions, natural selection often results in the formation of a new species over time.
When limited to a single area, such a species is said to be endemic. One such endemic species is the Organ Mountains Evening Primrose. Limited to those mountains, it, like many endemics, could be eradicated from its native range by a major catastrophe. Happily, its large yellow flowers that open in the evening and its tolerance of partial shade make it a good candidate for desert landscaping, hopefully insuring its survival. And if you keep an eye open after dark, you'll see another player in its survival—sphinx moths happily carrying pollen in return for nectar.


Listen to the Audio (mp3 format) as recorded by KTEP, Public Radio for the Southwest.

Contributor: Arthur H. Harris, Laboratory for Environmental Biology, Centennial Museum, University of Texas at El Paso.
Desert Diary is a joint production of the Centennial Museum and KTEP National Public Radio at the University of Texas at El Paso.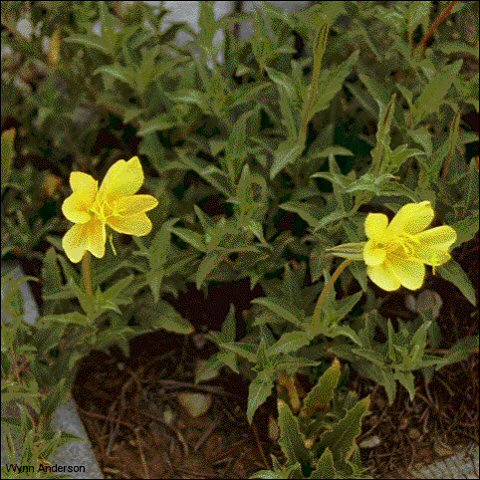 Flowers and foliage of the Organ Mountains Evening Primrose. Photograph by Wynn Anderson.