Desert Diary
Plants/Goldenball Leadtree

Visitors to the Chihuahuan Desert Gardens seldom fail to comment on the Goldenball Leadtree when it's seen in bloom. A small tree with bright green foliage, it comes into its own during the spring months when it's bearing its fuzzy, round balls of bright yellow flowers. It's a member of the pea family, and like other members of the family such as mesquite, catclaw, and beans, bears its seeds in pods. It makes a nice patio tree and does well with full sun and moderate water. It does require some protection from the full force of our desert winds, however.
Other names sometimes used are Littleleaf Leadtree and Wahoo. ln the wild, it grows on rocky, well-drained hillsides on the Edwards Plateau west into the Davis Mountains of Trans-Pecos Texas. The Goldenball and Greatleaf leadtrees, occurring from extreme southern Texas well into Mexico, are Southwestern representatives of some 40 to 50 other species of leadtrees, most of which occur in the Caribbean and in Central and South America. Once again, our southern geographic position pays off—this time, in beauty.


Listen to the Audio (mp3 format) as recorded by KTEP, Public Radio for the Southwest.

Contributor: Arthur H. Harris, Laboratory for Environmental Biology, Centennial Museum, University of Texas at El Paso.
Desert Diary is a joint production of the Centennial Museum and KTEP National Public Radio at the University of Texas at El Paso.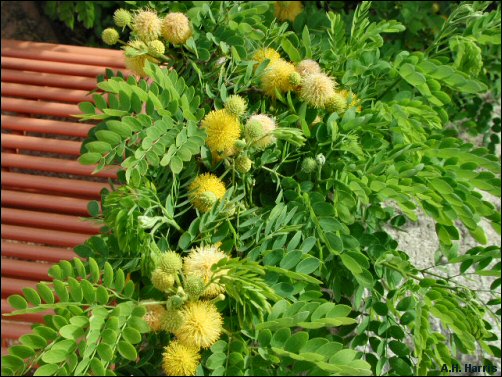 Blossoms and foliage of the Goldenball Leadtree, Chihuahuan Desert Gardens, Centennial Museum. Photograph by A. H. Harris.