Desert Diary
Plants/Golden Columbine

Creeping unobtrusively down the mountain canyons, a yellow-headed beauty occasionally reaches into our desert. The Golden Columbine favors moist, canyon habitat, but endures heat and dryness that would do in a lesser kind.
"Golden", of course, refers to the lovely yellow of the flower--but why the common name of "columbine"? One story has it that you merely have to look at the leaves for the answer. The three-parted leaflet requires little imagination to turn into the two spread wings and fanned tail of a dove. And "columbinus" is Latin for "like a dove".
Much of the charm of the flower lies in the presence of five graceful, elongated spurs projecting backwards from the five petals. With vivid imagination, you could almost visualize the spurs being formed by a tiny super-hero bug smashing into the face of a petal at supersonic speed and stretching a strand of the pliable substance almost to its breaking point. Even more marvelous is that evolution has constructed not only an awesome structure, but a thing of such beauty.


Listen to the Audio (mp3 format) as recorded by KTEP, Public Radio for the Southwest.

Contributor: Arthur H. Harris, Laboratory for Environmental Biology, University of Texas at El Paso.
Desert Diary is a joint production of the Centennial Museum and KTEP National Public Radio at the University of Texas at El Paso.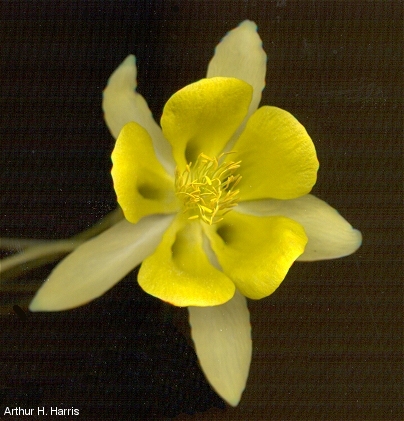 Face-on view of Golden Columbine (Aquilegia chrysantha). The entrances into the spurs are clearly visible. Scanned image by A. H. Harris.
For other views, click on the thumbnail images.

References
Correll, D. S., and M. C. Johnston. 1970. Manual of the Vascular Plants of Texas. Texas Research Foundation, Renner, TX, 1881 pp.
Web Resources
Texas A&M. Basic information and images.