Desert Diary
Plants/Ferns

A thing being found far out of place is noteworthy. Some years ago, news media had a field day with a shark body beside the Rio Grande south of Albuquerque. Perhaps intermixed with snide remarks about the Rio Grande Navy was the admittance that it was surely a hoax. Yet, some occurrences are nearly as surprising to the uninitiated. Perhaps they fail to realize the spectrum of conditions inhabitable by even fairly primitive organisms.
The northernmost cities of the Chihuahuan Desert have an appreciable number of inhabitants raised in moister climates. Mention ferns, and these people tend to think of damp forests and trickling springs. Tell them that ferns are not all that uncommon in small desert ranges like the Franklin Mountains, and for some, you might just as well have been talking about sharks in the Rio Grande. Yet, it's true. Various species occur in rocky crevices, often in areas sheltered from the full force of the sun, but sometimes facing it defiantly. But when push comes to shove, they merely submit and go dormant until moisture returns.



Contributor: Arthur H. Harris, Laboratory for Environmental Biology, Centennial Museum, University of Texas at El Paso.
Desert Diary is a joint production of the Centennial Museum and KTEP National Public Radio at the University of Texas at El Paso.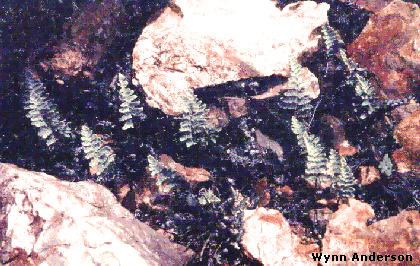 Eaton Lip Fern (Cheilanthes eastonii). Photograph by Wynn Anderson.

References
Yarborough, S. C., and A. M. Powell. 2002. Ferns and fern allies of the Trans-Pecos and adjacent areas. Texas Tech University Press, Lubbock. 116 pp.