Desert Diary
Plants/Cedar Sage

Among the many colorful flowering plants native to the Chihuahuan Desert region, the salvias stand out for their colors, whether in desert landscape or urban garden. One of these salvias is the Cedar Sage, Salvia roemeriana. Its main range is to the east of our desert, particularly on the Edwards Plateau, but it does extend into the Trans-Pecos area. The common name comes from its habit farther east of growing under Ashe Juniper.
Now some of you might wonder why it's not called Juniper Sage instead of Cedar Sage, but probably most of you know that junipers are commonly called cedars throughout the Southwest. Indeed, the U.S. Forest Service's Fire Effects Information System database lists nine common names for the species; six of the nine include the word "cedar". One of the advantages of Cedar Sage for gardens in the Southwest is its ability to grow in partial shade, a relatively rare trait for Chihuahuan Desert plants, most of which do really well only in full sunlight. Sunlight or not, the bright red flowers attract humans and hummingbirds alike.


Listen to the Audio (mp3 format) as recorded by KTEP, Public Radio for the Southwest.

Contributor: Arthur H. Harris, Laboratory for Environmental Biology, Centennial Museum, University of Texas at El Paso.
Desert Diary is a joint production of the Centennial Museum and KTEP National Public Radio at the University of Texas at El Paso.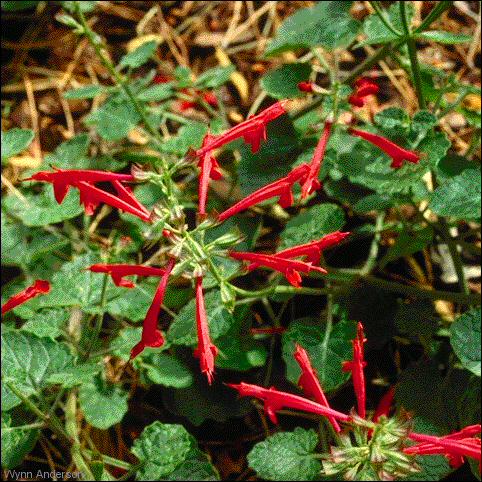 Flowers and foliage of Cedar Sage. Photograph by Wynn Anderson.