Desert Diary
Physics/Windmills

The early history of the industrial revolution was built upon coal, later joined by petroleum. The importance of the latter has played an important role in recent history as nations jockey for access to cheap oil. However, political realization is slowly dawning that domestic sources of petroleum cannot begin to supply present needs—and that there are clear dangers in relying on sources in distant countries. Furthermore, although people have long realized that fossil-energy byproducts damage health, only recently has it become clear that use of fossil fuels likely will cause major, unwelcome changes in world climate.
With such awakenings, the nation is turning more and more to alternative energy sources: solar, geothermal, and wind. Several areas in the northern Chihuahuan Desert are now sprinkled with windmill farms, with more to come. El Paso residents may voluntarily pay a slight surcharge to support recently erected windmills in the nearby Hueco Mountains. Farther east, the crest of the Delaware Mountains, south of the Guadalupes, sports a small forest of windmills, harvesting the prevailing southwestern winds of the desert.



Contributor: Arthur H. Harris, Laboratory for Environmental Biology, Centennial Museum, University of Texas at El Paso.
Desert Diary is a joint production of the Centennial Museum and KTEP National Public Radio at the University of Texas at El Paso.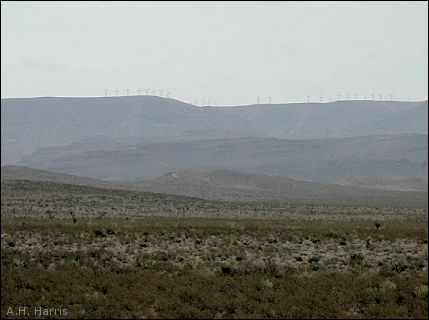 Windmills line the crest of the Delaware Mountains in Trans-Pecos Texas. June 2002. Photograph by A.H. Harris.

References
Web Resources
Palm Springs wind energy.