Desert Diary
History/Rio Grande Valley

Imagine the Rio Grande as a clear river, teeming with fish, meandering through a beautiful wooded valley with great stands of majestic cottonwood trees and thickets of willows. Marshes and the river support flocks of birds almost without end. No wonder the conquistadors tarried to enjoy the bounty. The climate has changed little during the 400 years since then—today's far different valley is primarily due to OUR influence.
We've cleared the bottomlands, filled in the oxbow-wetlands, straightened the river to conserve irrigation water, and turned the Rio Grande into a canal with cement banks through urban areas to stop its meandering. We've built dams upstream for water storage and to prevent flooding, without which few cottonwoods can sprout.
In trying to tame the area, we've destroyed much of what the conquistadors encountered. As always in fragile desert regions, the major problem is to serve human needs without destroying much of what makes life worth living.


Listen to the Audio (mp3 format) as recorded by KTEP, Public Radio for the Southwest.

Contributor: Kodi R. Jeffery, former staff member, Centennial Museum, University of Texas at El Paso.
Desert Diary is a joint production of the Centennial Museum and KTEP National Public Radio, University of Texas at El Paso.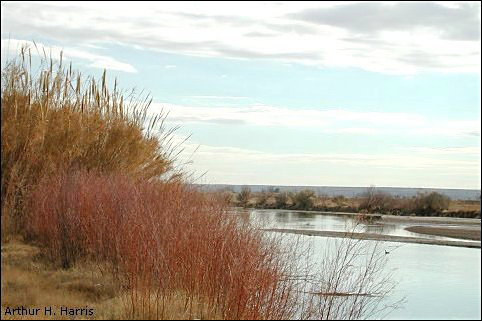 The Rio Grande at Canutillo, Texas. This is within the agricultural region where the river has been straightened and confined. Photograph taken 8 Jan 2001 by Arthur H. Harris.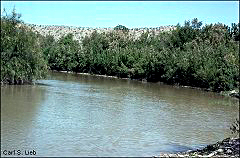 The Rio Grande at the mouth of the Green River, southern tip of Hudspeth County, Texas. Although beyond the controlled portion of the Rio Grande, the river still shows the effect of man in that the stream-side vegetation is Salt Cedar (Tamarix sp.), an introduced plant that causes severe problems in the Southwest. Photograph by Carl S. Lieb, 2 Apr 1993.