Desert Diary
History/Floodplain

The Rio Grande Valley has been described as "a linear oasis", a line of greenery stretching from Colorado through New Mexico and into the border region of Texas and Mexico. And an oasis is what it must have seemed to the first Europeans to enter the area, with thick bosques and with marshes teeming with waterfowl. Later, with irrigation, farmlands spread across the floodplain.
Floodplain. Now that's an interesting word and proved to be descriptive. 1740, an adobe church washed away. 1744, the Socorro Mission washed away, as it was again in 1829. 1830, buildings of Ponce de Leon's ranch on the north side of the Rio Grande swept away. Fort Bliss, established in 1854 at Magoffinville? Destroyed in the flood of 1868. This pattern of building in flood plains is still widespread in the United States, Mexico, and elsewhere—often at great economic cost as rebuilding in the same, flood-prone sites allows history to repeat itself again and again. But the Chihuahuan Desert's Rio Grande Valley? Safe at last with the construction of Elephant Butte Dam in 1916.


Listen to the Audio (mp3 format) as recorded by KTEP, Public Radio for the Southwest.

Contributor: Arthur H. Harris, Laboratory for Environmental Biology, Centennial Museum, University of Texas at El Paso.
Desert Diary is a joint production of the Centennial Museum and KTEP National Public Radio at the University of Texas at El Paso.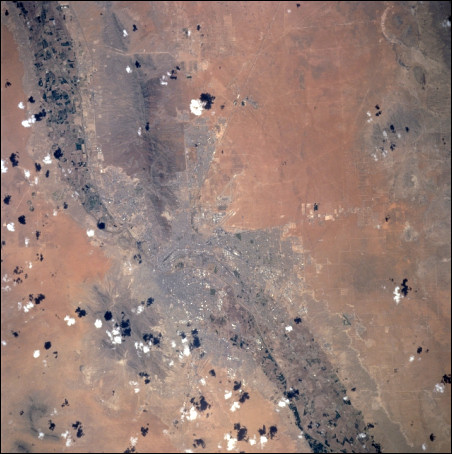 The Rio Grande Valley and El Paso region from space. The valley runs diagonally from the upper left with the flood plain clearly demarcated through most of its path; however, the flood plain is obscured in the constricted area between the Franklin and Juárez mountains and where covered by the cities. Photograph courtesy of NASA.

References
Web Resources
El Paso history, compiled by Dorris Harrison.