Desert Diary
Fossils/Valley of Fire

The observant traveler down the Rio Grande Valley in the northern Chihuahuan Desert will see lots of remnants of past volcanic fireworks—lava flows and cinder cones scattered along the periphery of the valley. Relicts of the distant past, one might well come to the conclusion that volcanic activity in the region is a thing of the past.
However, drop over the mountains to the east into the northern Tularosa Basin, and you might change your mind. Wending down the valley is a 45-mile long lava flow dated around 1500 years ago—only an instant in geologic time and one of the more recent flows in the continental United States. Native Americans undoubtedly watched the spectacular display in awe and possibly in fear.
This malpais (Spanish for badland) is incredibly rough, with the pressure ridges, fissure systems, pits, and lava tubes characteristic of such flows making it virtually impassable. Set aside by the Bureau of Land Management as the Valley of Fire Recreation Area, its stark beauty reminds us of the forces of nature that can be experienced by all.


Listen to the Audio (mp3 format) as recorded by KTEP, Public Radio for the Southwest.

Contributor: Arthur H. Harris, Laboratory for Environmental Biology, Centennial Museum, University of Texas at El Paso.
Desert Diary is a joint production of the Centennial Museum and KTEP National Public Radio at the University of Texas at El Paso.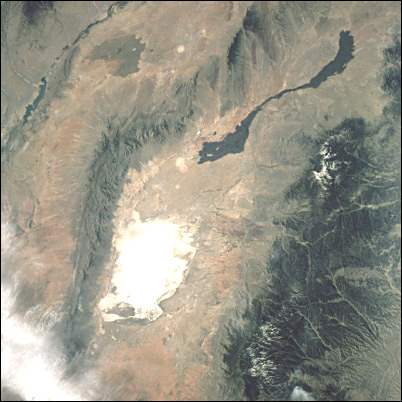 The lava beds northeast of White Sands are clearly visible within the Tularosa Basin in this photograph from space. The basin is enclosed by the San Andres Mountains on the west and the Sacramento Mountains on the east. The Sacramento Mountains appear dark primarily because of thick vegetation. The Rio Grande valley is visible in the upper left corner. NASA photograph.

References
Web Resources
Valley of Fire Recreation Area