Desert Diary
Fossils/Turquoise

Many of us covet the blue of turquoise set in silver by Native American artisans—rings, necklaces, bracelets, pendants, belt buckles, hat bands—all sorts of jewelry. Yet, the marriage of turquoise and silver occurred late in the history of turquoise in the Southwest, dating back only to the late 19th century.
Perhaps the oldest of gemstones, turquoise goes back to at least 200 BC in Mexico and the Southwest and 6,000 BC in Egypt. Prehistorically, beads, pendants, and mosaics were common elements. In southern New Mexico, prehistoric miners obtained the precious mineral from the Burro and Little Hatchet mountains of Grant County, the Jarilla Hills of Otero County, and the Guadalupe Mountains of Eddy County.
Robin-egg blue to greenish in color, turquoise is formed by the percolation of water through aluminum-bearing rock in the presence of copper and thus often associated with copper deposits as a secondary mineral. Perhaps it is ironic that this stone so reminiscent of the colors of the sea is most common in the semi-arid and desert regions of the earth.



Contributor: Arthur H. Harris, Laboratory for Environmental Biology, Centennial Museum, University of Texas at El Paso.
Desert Diary is a joint production of the Centennial Museum and KTEP National Public Radio at the University of Texas at El Paso.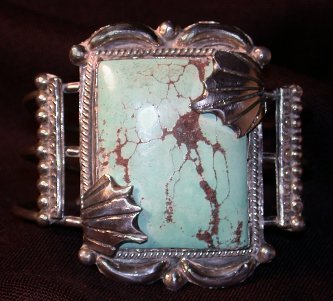 Turquoise and silver bracelet, Fitzgerald Collection, Centennial Museum.

References
Web Resources
Mineral Galleries. Basic info on turquoise (chemistry, etc.).