Desert Diary
Fossils/Not the Rockies

We have been chastised for pointing out that El Paso's beloved Franklin Mountains are not, as local lore has it, the southern end of the Rocky Mountains. Instead, we've maintained that the Rocky Mountains end in northern New Mexico. The argument for extension beyond this point has been that some maps show the Rockies as extending south into Big Bend. It is true that mountains are almost continuous on the eastern side of the Rio Grande Valley from northern New Mexico on to the south, and on a generalized map it's easy to lump them all as parts of the Rocky Mountains. The problem is that, south of the Sangre de Cristo Mountains, the nature of the mountains changes.
Geologists recognize the northern Chihuahuan Desert region as part of the Basin and Range Geologic Province, extending geographically from Big Bend westward, skirting the eastern and southern Colorado Plateau, and then northward into the Great Basin. Mountains in this province form from a stretching of the earth's crust rather than compression. Sorry, folks we'll stick to our guns on this one.


Listen to the Audio (mp3 format) as recorded by KTEP, Public Radio for the Southwest.

Contributor: Arthur H. Harris, Laboratory for Environmental Biology, Centennial Museum, University of Texas at El Paso.
Desert Diary is a joint production of the Centennial Museum and KTEP National Public Radio at the University of Texas at El Paso.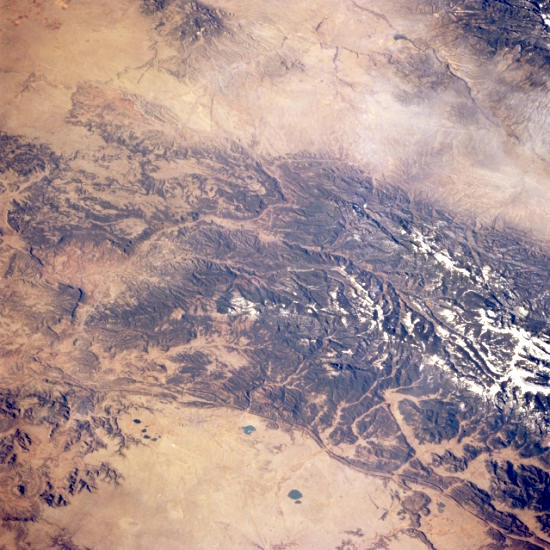 The southern end of the Rocky Mountains. View is approximately southwest over the Sangre de Cristo Mountains. Las Vegas is in the foreground center and Santa Fe on the other side of the mountains to the west. The Rio Grande can be see in the upper right. Image courtesy of the Image Science & Analysis Laboratory, NASA Johnson Space Center. Photo #: STS062-98-97 Date: Mar. 1994.