Desert Diary
Fossils/Guadalupe Mountains National Park

Several United States National Parks and Monuments lie within the Chihuahuan Desert Region. Guadalupe Mountains National Park lies at the southern tip of—surprise!—the Guadalupe Mountains. Originating in New Mexico and running into Texas, the Guadalupes rise to 8,749 ft, the highest point in Texas. The park encloses most of the Texas part of the highlands and extends into the bolson to the west.
The park was established in 1972, in large part because of the magnificent exposures of Capitan Reef, laid down in the Delaware Sea some 250 million years ago. These exposures of Permian-age reef draw geologists from throughout the world. West of the mountain mass, a small area of gypsum dunes is included in the park—much smaller, but equally as beautiful as the famous dune field at White Sands National Monument. Despite all of its diversity of scenery and plant and animal life, perhaps the one thing that sticks forever in the minds of the visitors is the visual impact of the cliffs of El Capitan rising sheer from the desert.



Contributor: Arthur H. Harris, Laboratory for Environmental Biology, Centennial Museum, University of Texas at El Paso.
Desert Diary is a joint production of the Centennial Museum and KTEP National Public Radio at the University of Texas at El Paso.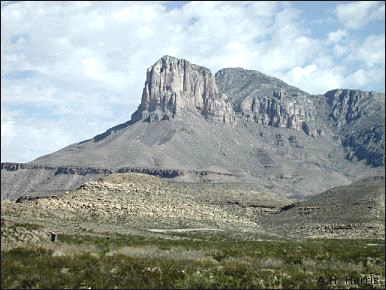 El Capitan from the south. Photograph by A.H. Harris.

References
Web Resources
Guide to the park, feature by feature.