Desert Diary
Fossils/Cool Water

Cool, clear water! Though rare, springs and seeps are scattered through the desert lands, though not always all that cool and clear. Where does this water come from? Look around and you may find a clue. Springs usually are in or near highlands, and even the most arid appearing mountains may hold surprises.
Our smaller desert ranges probably get little more precipitation than nearby lowlands, but crevices in the bedrock collect water flowing downslope from a large area. Underground, the collected rainwater is protected from evaporation and flows slowly between tilted rock strata under the influence of gravity, always moving downward along the easiest route. Where a canyon intersects the water's underground path, the water oozes once more from the rocks as a spring or seep.
Sometimes the guiding rock layers extend underground out into a bolson, perhaps to a buried canyon or an area shattered by a fault. These may be miles from the nearest mountains, but they finally provide the water an escape from the clench of the surrounding rocks. Forced upward by built-up pressure, the water reaches the surface as a spring.


Listen to the Audio (mp3 format) as recorded by KTEP, Public Radio for the Southwest.

Contributor: Arthur H. Harris, Laboratory for Environmental Biology, University of Texas at El Paso.
Desert Diary is a joint production of the Centennial Museum and KTEP National Public Radio at the University of Texas at El Paso.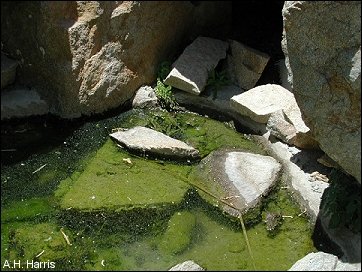 A desert pool, or hueco. Chihuahuan Desert Gardens, UTEP. Photograph by A.H. Harris.