Desert Diary
Fossils/Shaping the Desert

Throughout time, people around the globe have suffered catastrophes of nature: hurricanes, tornadoes, earthquakes, floods, volcanos, tidal waves, and more. How lucky we are that our desert seems relatively safe—but perhaps not as much so as we would like to think. Although our Chihuahuan Desert suffers massive disasters only rarely, we are not immune. Our very landscape has been shaped largely by major disturbances, courtesy of Mother Nature.
Examples abound. Mount Cristo Rey, adjacent to El Paso and Juárez, is only one of numerous visible reminders of volcanic activity like lava flows, ash deposits, volcanic peaks, and huge craters blasted from the desert floor. Many of the mountains found scattered throughout our desert rose through the ages as earthquakes relieved stresses within the earth. Before the damming of major rivers, floods frequently inundated entire valleys. Even today, local downpours produce flash floods, ripping away all standing before them. Most of the time, these forces are sleeping, but inevitably will awaken to once more chastise our complacency.


Listen to the Audio (mp3 format) as recorded by KTEP, Public Radio for the Southwest.

Contributor: Kodi R. Jeffery, Centennial Museum, University of Texas at El Paso.
Desert Diary is a joint production of the Centennial Museum and KTEP Public Radio at the University of Texas at El Paso.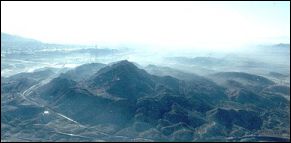 El Cristo Rey. This is a volcanic structure at the edge of the city of El Paso. Photograph by Scott Cutler.