Desert Diary
Fossils/Dead Llamas

Today, the rolling limestone countryside west of the Pecos River city of Carlsbad lies at the very upper edge of Chihuahuan Desert scrubland. Twelve thousand years ago, however, these hills were covered with sagebrush, grasses, and groves of trees. Then, as now, sinkholes and caves were sprinkled across the landscape. One such cave teaches the lesson that sometimes the unseen threat is worse than the known danger.
Dry Cave lies a bit below the crest of McKittrick Hill and opened then to the surface through the collapsed roof of a 30-foot-deep crevice. From the hilltop, the opening is clearly visible, but moving from downslope, unseeable until at the very brink of the chasm.
As reconstructed, one of the small herds of Big-headed Llamas, perhaps a family group, sensed a stalking predator—possibly one of the large cats. Fleeing up the hill in terror, with their attention on the horror behind, five individuals, adult and young, flailed wildly as space opened beneath their feet. Now, 12,000 years later, their bones bear mute testimony to the wages of divided attention.



Contributor: Arthur H. Harris, Laboratory for Environmental Biology, University of Texas at El Paso.
Desert Diary is a joint production of the Centennial Museum and KTEP National Public Radio at the University of Texas at El Paso.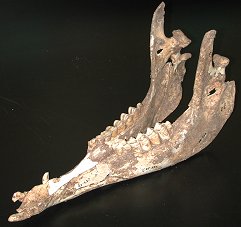 Lower jaws of an adult Big-headed Llama (Hemiauchenia macrocephala). The jaws have been stabilized by plaster of paris (white). UTEP Paleobiology Collection 25-230. Photograph by A. H. Harris.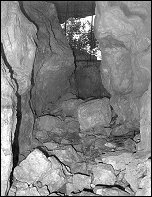 Entrance to Dry Cave, Eddy Co., NM. At the time the llamas fell to their deaths, this vertical fissure was much deeper and extended out front of the present cave entrance. Since that time, it has mostly filled through erosion. The ledge that the llamas went over can be seen above the patch of sky.
>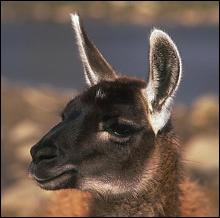 A modern relative of the Big-headed Llama.

References
Kurten, B., and Anderson, E. 1980. Pleistocene Mammals of North America. Columbia University Press, New York.
Webb, S. D. 1974. Pleistocene llamas of Florida, with a brief review of the Lamini. In S. D. Webb (ed.), Pleistocene Mammals of Florida. University Presses of Florida, Gainesville.
Web Resources
American Museum of Natural History Bestiary.